This is an archived article and the information in the article may be outdated. Please look at the time stamp on the story to see when it was last updated.
MADISON, Ala. – The single best place to live in Alabama, according to Niche.com's rankings, is none other than Madison. A slew of Birmingham suburbs follow, with Huntsville finishing in 11th.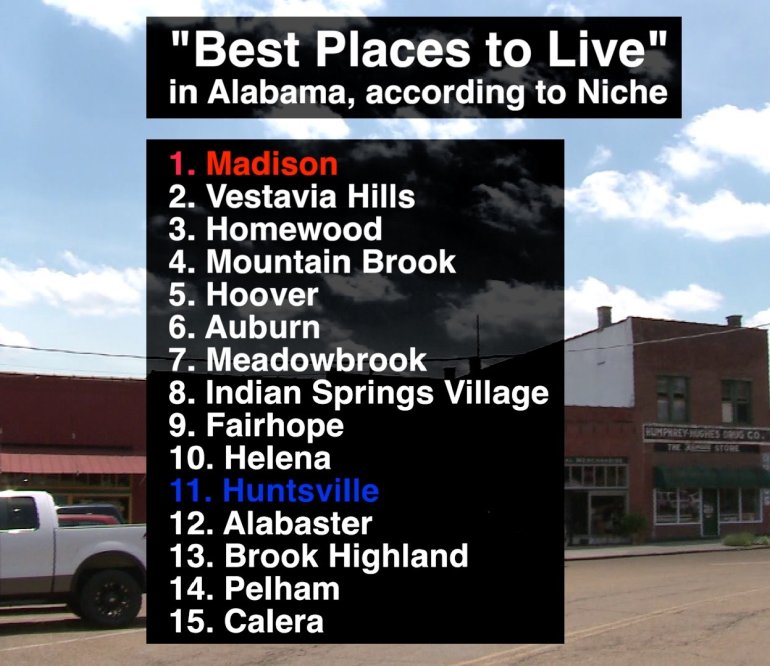 Niche explains their process on their website, "We've collected and analyzed dozens of rankings factors from federal and local government datasets. We've combined those with proprietary Niche data and community reviews from each area."
Madison pulled down top scores in a number of categories, including an A+ grade in Public Schools, Housing, and a category called Good for Families. The town got an A- in Diversity, a B+ in Nightlife, and a B- in Crime an Safety.
That also put them at the top of Niche's lists of Best Places to Raise a Family in Alabama and Best Places to Buy a House.
Of course, it's worth noting, if you narrow the search from "places" to "cities," Huntsville tops the list.
Huntsville got close to top marks in Good for Families (A), Nightlife (A-), and Public Schools (A-), with slightly lower marks in Housing (B+) and Crime & Safety (C).
In fact, Huntsville is ranked as the 38th Best City to Live in America on the site.
There are also a number of nearby communities that rank highly on the list of Best Places to Buy a House, including Priceville, Hartselle, Moore's Mill and New Market. All of those towns appear in the top 15.