This is an archived article and the information in the article may be outdated. Please look at the time stamp on the story to see when it was last updated.
MADISON, Ala. – Two new schools could be built in the next few years in Madison.
Tuesday night at his State of the Schools address, Superintendent Robby Parker of Madison City Schools proposed a plan that includes a new elementary and middle school to accommodate the district's rapid growth.
"In just about two years we will be out of space at the elementary school level. At the middle school level," he told WHNT News 19.
Parker added that this proposal has not been approved by the Board of Education, and the district would seek feedback from the public.
The Schools Proposed
The middle school would be the district's third middle school. Leaders have already approved additions to each middle school that already exists, including additional classrooms and gym and cafeteria expansions. But more space will be needed, fast.
Middle schools grew a total of 51 students in just the past year, Parker said.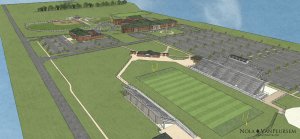 Parker's proposal for a new middle school has:
1200 student capacity
Behind the current central office on Celtic Drive, property the school board already owns
$49 million estimated price tag
Completion in 2021
Creating a 51-acre campus
"I can see a beautiful campus there," Parker said.
The elementary school is also needed, Parker said, to address near-capacity numbers the district is already seeing. Elementary schools increased by 333 students in the past year.
Parker's proposal for a new elementary school has:
North of the Kroger on the East side of Wall Triana Highway, property the school board already owns
$39 million estimated price tag
Completion in 2021
Parker said it would take two years from planning, to groundwork, to building the schools so the work needs to commence quickly. But he wants to have your input on the locations. He said in his address that he understands traffic will be increased in those areas, but he sees it as something worthwhile for the students regardless of the extra flow of vehicles.
Zoning
Another option, according to Parker, could be to build the new schools in Limestone County, but that option would require a lot of rezoning and added there is no location chosen there. He wants feedback on that too, but he said he thinks the Madison locations that are already chosen in his plan are best.
Zoning has a lot to do with that.
"I believe the locations are the best places for our kids, number one academically," he said. "And we can zone it. We feel like without complete disruption to our town, we can zone it equitably where our demographics are the same at every school including the two new schools. And, we already own the property. That's big. That's a $5 million plus right there."
He said building in Limestone County would mean more rezoning.
"That would mean a lot more impact on our citizens, and I'm trying to stay away from that as much as I can," he said.
Going further in-depth into the specific zoning, Parker said the new schools in his plan would be split into two feeder patterns.
"Both would be split between the East and the West. Neither school will be exclusively East or West," he said. "The middle school would feed both James Clemens and Bob Jones about 50/50. The elementary school would also be about 50/50 going to the James Clemens and the Bob Jones feeder pattern."
What about high schools?
No immediate plans for high school expansion were announced, but Parker stated the district is planning to look into a possible expansion in the long-term. There will be a task force created to look further into the idea.
So this plan doesn't answer for the high schools. Here are Parker's options there. They aren't as in need for space in madison high schools as elementary and middle are. But here's what he says needs to happen longer term @whnt Will create a task force to explore options. pic.twitter.com/tLgfk69EIh

— Kristen Conner (@KConnerTweets) February 27, 2019
He outlined two different options to explore:
High school additions to increase capacity for each existing high school by 500, to cost a total of $18 million
A new high school entirely with a 2000 student capacity, to cost $120 million
He said to build a new high school, even more revenue would need to be raised.
There will be more explored about these ideas for the high schools in the coming months. Parker recognized that the elementary schools and middle schools need attention first.
What is next?
First, the board of education needs to act on Parker's proposal for two new schools and the locations he suggested.
Parker believes that for Madison to keep up the excellence it has already proven, new space is needed. But to do that, they'll use revenue from a proposed ad valorem tax increase.
The district will need the Legislature and later the public to sign off on a proposed property tax increase.  His entire plan is contingent on that moving forward.
Of the 12 mills, 10 mills of the funds from the increase, assuming it passes, would go toward the new elementary and middle schools, Parker said Tuesday. Then 1 mill would head to high school additions and 1 mill for new instruction programs and safety enhancements.
The Legislature still needs to approve a bill, for the governor to sign, that would establish a special election for a vote of the people on the increase. For the tax to be increased, the people must pass it with a majority vote. It is still unclear when the election would be, because the Legislature doesn't meet until next month and a bill has not yet been brought forward. A bill will be drafted in the Legislature in hopes to get that on a ballot within the year.
Parker believes even more revenue would be needed for a possible new high school or additions to the current high schools.
"That's the only way we can stay like this [level of excellence]," Parker says. Need bill and a vote of the people for increase in tax to pay for new buildings. Here's the cost broken down @whnt. pic.twitter.com/7Cs0eLwBt9

— Kristen Conner (@KConnerTweets) February 27, 2019
Parker said he is happy with the students, staff, district and parents. He thanked them for all their hard work over the past year.
"I'm just proud of them," he said of the students, "and I'm biased. And I admit that."
Feedback on the proposals can be submitted here.