This is an archived article and the information in the article may be outdated. Please look at the time stamp on the story to see when it was last updated.
MADISON, Ala. – Easter is only a few days away, and that means many people are heading to church this week. Unfortunately, it's creating an opportunity for thieves who are targeting churchgoers around Madison.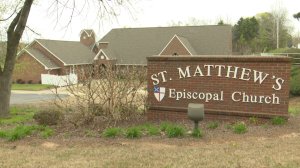 Leaders at one church say they're having to be more vigilant.
"This is probably the church's busiest week of the year," Cathy Williams said. Williams is the parish administrator at St. Matthews Episcopal Church. Easter at St. Matthews Episcopal Church in Madison attracts hundreds. And as was the case last month, a church meeting attracted at least one vandal.
"Someone busted out a car window and stole two cell phones and a briefcase," Williams said.
Not wanting history to repeat itself, church leaders alerted families, telling them to protect themselves before coming inside for fellowship. "We've told them to keep their cars locked, and all of the belongings, to leave them under the seat or in the trunk," Williams said.
Williams says the last break-in happened at night. But better safe than sorry, they're asking church volunteers to keep an eye on the parking lot during service, hoping any would-be thief doesn't pay them another visit.
"And we pray for those people too," Williams said. "They obviously have needs we're not aware of."
St. Matthews isn't the only church in Madison to have been targeted in the last few years. But faith leaders are hoping for a quiet and crime-free Easter.
St. Matthews leaders say they're also installing cameras and additional lighting for their parking lot in hopes of helping to catch any would-be thieves.