This is an archived article and the information in the article may be outdated. Please look at the time stamp on the story to see when it was last updated.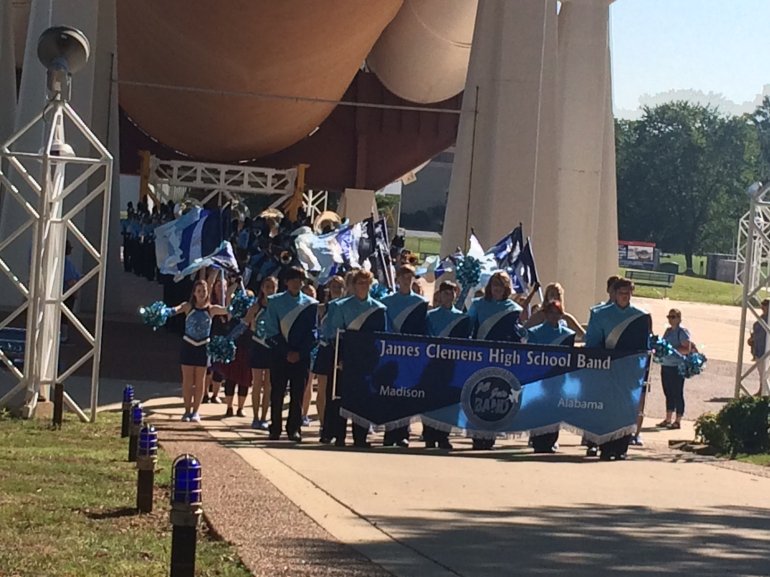 MADISON, Ala. – The James Clemens High School Band is headed across the pond over the winter break to march in the London New Year's Day Parade.
The parade route is 2.5 miles long (or 4.02 km) past 500,000 people and will be televised to a crowd approaching 300 million people.
"This is a wonderful opportunity not only for our students, but for our school and our community," said band director Keith Anderson. "Few high school bands are invited to perform at an event of this magnitude, and it speaks to their hard work and our community's support. They will truly 'be the example' when representing the Jets and the City of Madison."
A publicity crew from London stopped in the Rocket City today to take some promotional photos and video of the band in front of something "iconic to their hometown."
So, the Jets found themselves marching under the Pathfinder, around the U.S. Space and Rocket Center and posing for photos in front of the Saturn V.
The school may have only been around for four years, but the JCHS Marching Band has already established their program as being a "great example of the power of music education in our schools."
We are spending the morning with @jcjetsband. Thanks to @RocketCenterUSA for hosting us for the day. pic.twitter.com/dpBhguOPKO

— LNYDP (@Lnydp) September 21, 2016