This is an archived article and the information in the article may be outdated. Please look at the time stamp on the story to see when it was last updated.
HUNTSVILLE, Ala. —  A federal judge has dismissed most of the claims against the city of Madison in a lawsuit filed by Sureshbhai Patel.
Patel was seriously injured after an encounter with Madison Police Department officer Eric Parker in February 2015. The claims against Parker were not addressed in the ruling.
Parker was acquitted by a federal judge last year on excessive force charges after two trials where the juries deadlocked without reaching a verdict.
The civil case is ongoing, but a Feb. 1 ruling by U.S. District Judge Virginia Emerson Hopkins found that Patel didn't have sufficient basis to assert claims that his injuries stemmed from failures by Madison.
The court dismissed claims that alleged:
Madison failed to properly train its officers;
There was an obvious lack of training on constitutional limits on the use of force;
Madison failed to investigate and discipline officers for constitutional violations;
Parker's reinstatement to the department last fall was a "ratification" of his conduct.
That represented the bulk of the complaint against Madison, but the judge didn't throw it out entirely.
The court allowed Patel to move forward on a "policy and custom" claim against Madison. Patel has argued the incident was consistent with Madison policy and custom.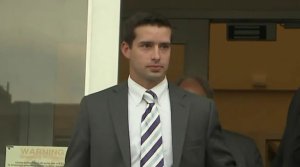 The court cited Patel's complaint which argued, Madison "evaluated officers' performance based in part on their statistics for 'self initiated' contacts, arrests, and tickets, thereby encouraging officers to be aggressive in their approaches to allegedly suspicious persons."
Patel's complaint also argues that Madison police officers were told that pat downs for weapons were permitted during any investigatory stop.
The court also highlighted Patel's argument that Parker was acting as a training officer on the day he encountered Patel and that his job was to show the trainee "how the job of a police officer in Madison is really done," according to the complaint.
In allowing that claim to go forward, the judge wrote, "The court finds that Mr. Patel has plausibly asserted the existence of a standing policy or custom attributable to the City through the Madison Police Department that is distinct from his failure-to-train theory and that, if proven, could support Mr. Patel's constitutional claims asserted against the City.
The city of Madison was given until Feb. 15 to respond to that part of Patel's complaint.
The court also gave the plaintiffs 45 days in order to provide information about expert witnesses it expects to use in the case. That deadline is now March 23.