This is an archived article and the information in the article may be outdated. Please look at the time stamp on the story to see when it was last updated.
MADISON, Ala. – Duluth Trading Company has plans to build a store right off I-565 in the Town Madison development, according to Madison planning documents.
The clothing company has a site plan for a 15,566-square-foot building on 2.33 acres on Graphics Drive, just off I-565. Madison officials would not confirm the store's interest in the site but confirmed the existence of the planning document.
When contacted by WHNT News 19, a Duluth Trading Company spokesperson said the company does not discuss new stores until "the leasing, permitting and development process has been thoroughly vetted."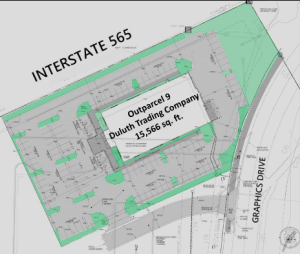 The planning commission's staff report recommends approving the site plan with some planning and engineering department contingencies.
Duluth Trading Company was founded in 1989 in Belleville, Wis., and specializes in work wear and gear for men and women who "lead a hands-on lifestyle and who value a job well-done."
Duluth has more than 40 locations, primarily in the Midwest. A location in Madison would be the first in the southeastern United States. Another store is preparing to open in Greensboro, N.C.
Madison's planning commission is scheduled to vote on the plan Thursday.
Duluth Trading Company would be the first retail announcement for Town Madison. Apartments and a Margaritaville hotel have already been announced for the development, as well as a stadium for the new Minor League Baseball team, the Rocket City Trash Pandas.