This is an archived article and the information in the article may be outdated. Please look at the time stamp on the story to see when it was last updated.
MADISON, Ala. – Monday, city leaders conducted a swearing-in ceremony for the new Madison Police Chief, David Jernigan.
For Jernigan, Monday was a special day. He looked out into the crowd and saw former FBI colleagues, community partners, old friends, and his former colleagues at the Madison County Sheriff's Office.
Madison Police officers lined the back wall in a show of support.
"I see my friends from the sheriff's office: my extended family in black and gray," he said, his voice breaking, "and my new family in blue."
Jernigan said in a later interview with WHNT News 19 that it was an emotional moment.
"It's part of my extended family. Whenever you talk about that, my comments were from the heart for how I really feel about the agency and certainly all the people who came here to support me." He added, "People who I haven't seen in a while, they came out to support me. It made me feel really good."
Jernigan hit the ground running as he became chief July 3. Six days into the job, he still has a lot of ground to cover while meeting employees and looking at departmental policies and rules. There is also some administrative work to do.
"We have a budget that's coming up. A very short deadline to get a budget worksheet in," he said. "So I've been meeting with staff."
He tells WHNT News 19 he wants to be proactive in his budgeting. Some of the biggest things he will focus on include personnel.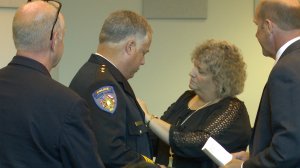 "To be able to meet the demands of our increased expansion West of County Line Road, and also Town Madison which is on Zierdt Road. Those are two things that we have to plan for ahead of time to make sure we have enough resources. We can't wait until we build it and then start asking for resources. So incrementally we would like to be able to ask for additional help."
Jernigan added, "With that comes police cars, weapons, training and things like that so there's a bit of a domino effect."
The new chief has also made some changes to the department's online presence. There is now a Madison Police Twitter account and a Madison Police Next Door account.
"That's how we get the word out, and it's been very good so far," he commented. "That's a way that reinforces our community policing to let everybody know how they can keep their neighborhoods safe… It allows communication. It's engagement. It's relationships."
Background
Jernigan comes to Madison Police from the Madison County Sheriff's Office, where he was Deputy Chief.  He worked there from 2014 to 2017.
Jernigan's resume obtained by WHNT News 19 through an open records request to the city of Madison reveals he worked with the FBI in its Hazardous Devices Operations Center and Critical Incident Response Group from 2003 to June 2013. He was an FBI Special Agent from 1984 through 2003. His first law enforcement job was in the Florida Department of Law Enforcement crime lab as a forensic scientist and crime laboratory analyst.
Jernigan attended the Northeast Alabama Police Academy and was certified in 2014.  He has a B.S. in Forensic Science from the University of Central Florida- Orlando and an M.S. in Public Safety from Auburn University Montgomery.