This is an archived article and the information in the article may be outdated. Please look at the time stamp on the story to see when it was last updated.
MADISON, Ala. – Madison's baseball team is about to have a stadium and infrastructure at Town Madison, but now it is time to narrow down the list of possibilities for what the team will be called. Today, BallCorps released a Top 10 list of community-submitted names and you can vote on your favorites.
The List
BallCorps, LLC., which owns the Mobile BayBears, is planning to relocate the team to Madison. Below is the list of names it released, and the reasons why those names were chosen. The list is in alphabetical order and does not include the names of the citizens who submitted them:
Army Ants: Sound off! The Army's Redstone Arsenal serves as a center for missile and national defense programs and employs more than 40,000 members of our community.
Comet Jockeys: "Rocket City" was put on the map for its cutting-edge aerospace development. Comet Jockeys is a celebration of our brave astronauts who explore outer space.
GloWorms: Glow Worms are rare, tiny, bioluminescent creatures that call the caves at Dismals Canyon in North Alabama home, one of the few places in North Alabama!
Lunartics: We are home to some of the wildest mad scientists facing today's challenges in space and technology. You'd have to be a "Lunartic" to do that!
Moon Possums: A scavenger at heart, these local critters are known for hanging around and having a good time with their family– just like going to a ballgame!
Puffy Head Bird Legs: No joke! It's lingo coined by our astronauts for body fluid moving from feet to head in outer space due to lack of gravity!
Space Chimps: A tribute to Miss Baker, one of the first animals safely launched into space who is buried on the grounds at the U.S. Space and Rocket Center.
Space Sloths: A nod to NASA's Marshall Space Flight Center, the Space Sloths is up there with classic Minor League Baseball names like IronPigs, Flying Squirrels, Chihuahuas and Jumbo Shrimp.
ThunderSharks: Mix the powerful thunder of North Alabama's storms with the Ultra-strong, sleek determination of the shark and you end up with the personality of our community: willing to attack any problem. Visiting teams won't mess with ThunderSharks.
Trash Pandas: (Slang for raccoon) Our community is known for engineering, and no creature in our galaxy is as smart, creative, determined, and ingenious. A problem solver– dedicated to the challenge at hand– as our local raccoons!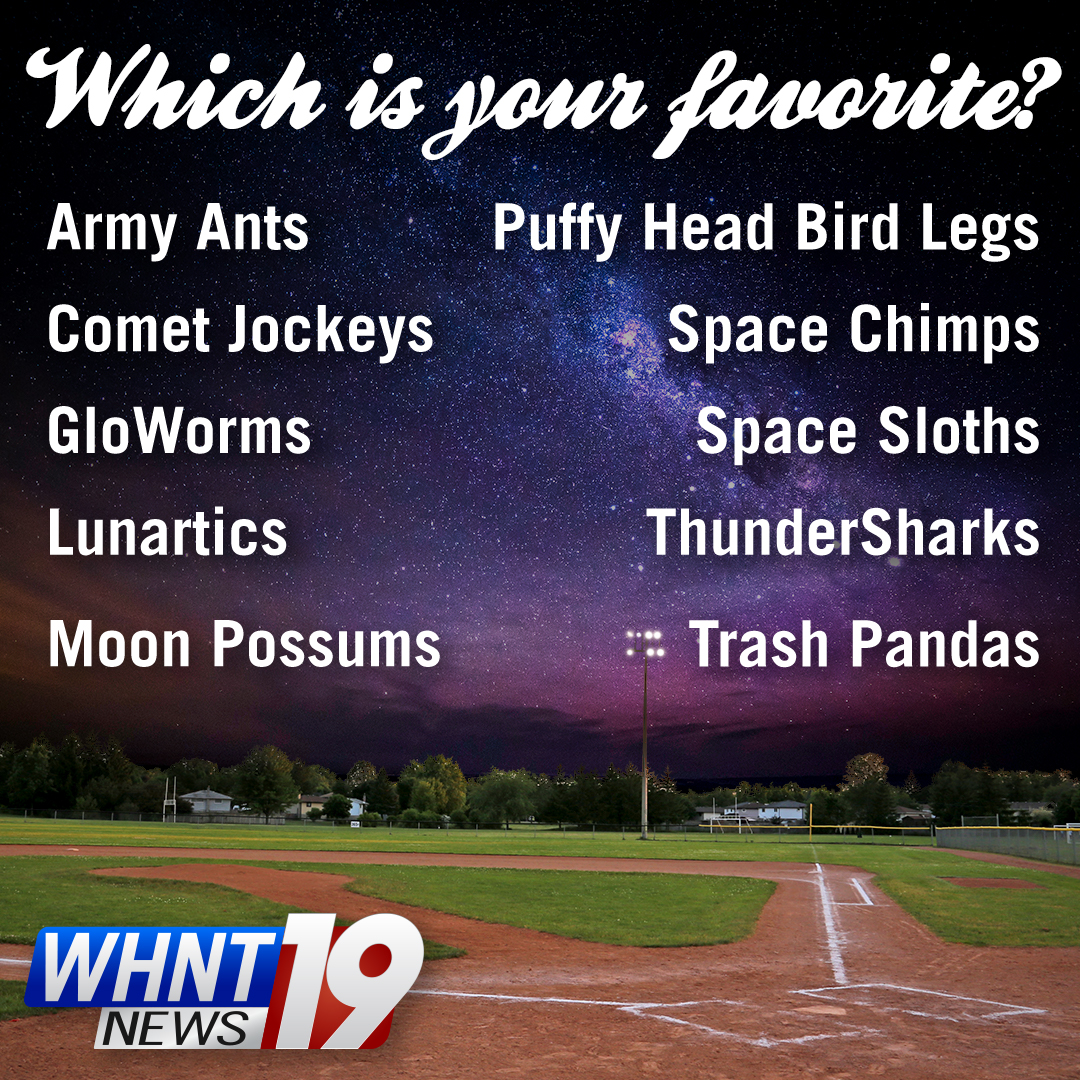 Continue reading to learn how to vote on your favorites.
BallCorps is working with Brandiose, the branding group behind the Jacksonville Jumbo Shrimp and the El Paso Chihuahuas. Ralph Nelson, Managing Partner, said Brandiose boiled down your suggestions from nearly 3500 names to this list of 10 based on several factors.
"We look at the names, and we ask, 'How will a logo look? How will a mascot look? How do you sell that particular thing? Are people going to enjoy themselves?'" he said.
Nelson said many of the names submitted for the contest were duplicates. Out of nearly 3500 entries, 900 were unique names.
The number one name submitted was the "Rockets" with 163 submissions. "Missiles" was second at 137 submissions.
"Rockets are great!" said Nelson. "We have a rocket right there on 565! But we wanted something that we could do more with. I'll tell you what Brandiose said to us– if you name your team the Rockets or the Missiles, people are going to go, 'Oh, I get it!' and they are going to move on to something else. If you name your team the Army Ants or the Trash Pandas, there are going to be conversations going on and on and on. And that's what we want."
Nelson said it was clear from the beginning, when he saw the list, that the community might not like them all.
"I'm sure people, when they first see the list, people are going to say, 'I'm not sure any of those make sense to me.' And some of these names didn't make sense to me when I first heard them! But there were conversations and discussions, and the more I learned the more I realized that these were the right 10 names to put out to the community," he stated.
But leaders say controversial, quirky and edgy team names are now the trend in Minor League Baseball. That's why Brandiose chose these 10 submissions for the list.
"Team names are often disliked when they first are announced. It's just the way it goes. And then the names start to really grow on people, and I think that's what we are expecting here," Nelson explained.
The TOP TEN TEAM NAMES are out!
Time to vote! https://t.co/rlEW2AnmaG pic.twitter.com/mYp7QVHEif

— Rocket City Trash Pandas (@trashpandas) July 26, 2018
Team Identifier
There's another aspect to voting. Not only will you be asked what your favorite team names are, but you will be required to choose a "team identifier" before submitting your choices.
Nelson said BallCorps will ask, on the submission form, whether to refer to the team as from Madison, North Alabama, or the Rocket City.
"We are still working on that," he said.
Those were the top three identifiers from the previous Name the Team contest, according to Nelson. He said they want to further discover how the community feels about what area the team should claim.
How to Vote
To vote, click here to visit the North Alabama Baseball website.
Nelson said there, you will find a form explaining the Top 10 names. You will be able to choose your favorite team name and the Team Identifier (Madison, Rocket City or North Alabama).
"We are going to be able to tell from this, the sense of humor in the community," said Nelson. "The creativity in the community. The enthusiasm in the community. There is going to be some very interesting data that is going to come out of the voting on these Top 10 names."
Nelson said he would not reveal his own favorite option.
"I can't, it's just not right," he said. "This isn't my decision. This is this community's decision."
Pushback
Many are talking about this story around the valley.
Some are eager to welcome something new. Others posted to social media, questioning the contest's authenticity based on the Top 10 list BallCorps released.
We reached out to Roger Wexelberg, BallCorps's President, about the contest. He revealed how it went after the North Alabama Baseball site went live with the list of possibilities:
"The list is absolutely real, there are number great fun names on the list that also pay homage to this area and we have had a tremendous  positive response. In fact we had over 1,000 votes in the first two hours of the poll being open. We also expected there would be some push back, there always is in these types of votes, but overall we couldn't be happier with the number of positive engagements."
What's Next
We also spoke to Wexelberg about what the team name will mean for the brand and team.
"Once we get the team name, we can start working on merchandise. We will start working on the logo, we will start getting into the marketplace. Talking to people about sponsorships, talking to people about the stadium," he explained.
Wexelberg said he has a timeline for when we will find out the final team name pick:
Voting ends at 11:59pm on August 16
After that, the 5 lowest-ranked teams will be eliminated from the list
Another round of voting opens for the top 5 teams
September 5: announcing the top choice at Rocket Republic in Madison
October 27: revealing the logo and merchandise
The Name the Team contest winner will be awarded 5-year season tickets, will throw out the first pitch in April 2020, and will appear at the October event where the name is announced.
"Somebody in this community is going to be the person who gave us the winning name," said Nelson.
Nelson said you will also see advertising about the Name the Team contest around the Tennessee Valley. He explained that it's because they want as many people as possible to vote.
"People are going to see posters on the Pepsi trucks driving around town. They are going to see handouts in some of the stores and restaurants. They are going to hear some radio commercials on this," he said. "We wanted this to be so engrained in this community, that we decided to work on this very hard."
Wexelberg's goal is to have 100,000 votes.