This is an archived article and the information in the article may be outdated. Please look at the time stamp on the story to see when it was last updated.
MADISON COUNTY, Ala. – The Deputy Superintendent of Madison County Schools has a new position, at least temporarily.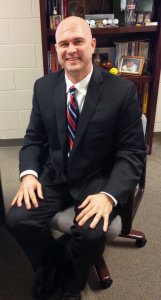 The school board voted Mark Minskey into the Interim Superintendent position at the meeting Thursday night.
Minskey will replace superintendent Matt Massey, who is leaving for a position as the president of the Alabama School of Cyber Technology and Engineering. That school will serve the entire state and is set to begin classes in August of 2020.
"I am excited for the opportunity," Minskey said. "Mr. Massey has done an outstanding job in putting structures together for our school system, we have an outstanding strategic plan that our community, administrators, teachers put together. We are going to continue working with that, in that direction. I'm excited, it's a great opportunity to serve our community."
Minskey did not hint whether or not he would apply for the permanent role, saying at this time his focus is on the start of the school year in August.
He added that his team, and his experience, make him a qualified acting leader.
"When Mr. Massey, the superintendent, is out, I get to step in and fill that role so I've had the opportunity to do that a few times," he said. "We have the best employees in the business, which makes my job a whole lot easier."
There's more left for the board to do. After approving a job vacancy announcement, they're getting ready for a 180-day search for a superintendent. That search begins on Monday, when Massey officially begins with the cyber school and Minskey's interim position becomes effective.
"My hope is, and I think the board's intent is, to find somebody and have them in place before the end of the first semester or before Christmas," board president Dave Weis explained.
The board has the tough job of choosing someone to fill a role that is typically an elected position. Matt Massey earned his seat by a vote of the people to serve through December 31, 2022. The board will decide who again sits there through the end of that term. Weis said people should trust the board with the responsibility of choosing wisely.
"I think the public should have faith and confidence in us as their board to select the best person and right person for the job," he said, nothing the talent both in and out of the district that will likely apply for the superintendent position. "We have a great group of individuals to run this school system and I am not concerned at all."
The board will accept applicants, who can send a letter of interest and resume via mail or email to the board office with attention to Dave Weis.