This is an archived article and the information in the article may be outdated. Please look at the time stamp on the story to see when it was last updated.
MADISON COUNTY, Ala. (WHNT) – The Madison County Board of Registrars Office has moved from the 5th floor of the Madison County Courthouse to 819 Cook Avenue at the Charles Stone Agricultural Center. The center is directly across the street from the Madison County Farmer's Market.
On September 10 registered voters in Madison County will decide if the Madison County Tax Collector and Tax Assessor elected offices will be consolidated into one elected office as the Madison County Revenue Commissioner.
The deadline to apply for an absentee ballot or to vote absentee in person is Sept. 5 at 4:30 p.m. The ballot must be returned by Sept. 9, hand delivered by the voter; or if mailed, it must be postmarked by 5 p.m. on Sept. 9.
The last day to register or make a name or address change to vote in special election is Aug. 30 at 4:30 p.m.
The board of registrars office moved about three weeks ago to the Cook Avenue location. Chairman Linda Hairston says they are still situating everything in the office after the move.
"We don't have a mailbox here yet so we're still getting our mail at the courthouse which is 100 North Side Square."
Hairston says mail sent to the courthouse is promptly forwarded to the new office. She says the new location adds convenience for Madison County citizens.
"We're really easy to find," says Hairston, "there's only one floor here and it's much more convenient than going to the courthouse."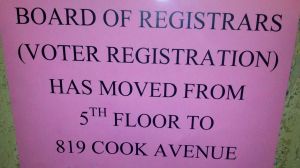 Hairston says Monday at least two voters misinterpreted a sign directing people from the courthouse to the new office. She says those individuals thought the absentee voter office had also moved but Hairston says that office remains on the 2nd floor of the Madison County courthouse.
"I don't think it's going to be too confusing," Hairston says, "I just don't want people to go to the courthouse and think they're going to register to vote at the courthouse because if they do it in person they do need to come to 819 Cook Avenue."
WHNT News 19 asked Hairston the best way for people to find out their polling location for the September 10th special election. She says many voters have two different polling places for municipal and district elections based on their address.
"If you haven't made any changes you should have a voter registration card we mail out to everyone when they register. That card will give you the voting place and the address of the polling placed you need to go to," explains Hairston.
If for some reason you do not have your ID card, Hairston explains you can visit alabamavotes.gov and find all your information there.
"You will enter your name and your date of birth and you can go in and it tells you exactly where you will be voting."
For any additional questions you can call the Madison County Board of Registrars Office at 256-532-3510.