This is an archived article and the information in the article may be outdated. Please look at the time stamp on the story to see when it was last updated.
HUNTSVILLE, AL-  Social skills are important tools for any child. But, for children with autism and other learning disabilities, learning appropriate social communication can be a challenge.
That's why Madison Behavior Therapy is offering a 'summer social skills group.'
"Play skills are huge, especially in our field. We work with a lot of kids where some play skills don't really come naturally," explained Madison Behavior Therapy Clinical Supervisor Leigh Ayres.
Madison Behavior Therapy is making sure children of all abilities can hone in on their social skills this summer.
"It's got two parts, so we're doing a lesson with the kids in a small group, that's interactive. Then we have a more natural part of the group where the kids get to go and actually practice the skills they learn in the lesson," said Ayres.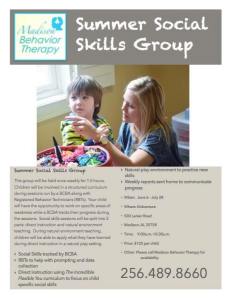 The group will meet once a week for an hour and a half, the curriculum will be structured and led by registered behavior technicians.
"We are actually working on skills, each child is assessed within the first week and they will have individualized goals at the end of the 6-week program, the parents will get a nice graph that shows where there child started out on certain goals and where they are now," said Board Certified Behavior Analyst Lindsay Chapman.
The group will also be plenty of fun, Chapman says she's grateful Kidventure is opening the doors for the children to work on their social skills.
"Taking turns or even little things like making eye contact and asking a friend to play…it's just a great indoor playground where they can play but it's also enclosed. No one is going to get hurt; no one is going to run away. It's safe," said Chapman.
The group will take place at Kidventure in Madison. There is still room in the class. The cost is $125. You can sign up by calling 256-489-8660