This is an archived article and the information in the article may be outdated. Please look at the time stamp on the story to see when it was last updated.
MONTGOMERY, Ala. – Lieutenant Governor Kay Ivey has been sworn in as the 54th Governor of the State of Alabama.
This follows Gov. Robert Bentley's resignation less than an hour earlier.  Ivey becomes the state's second female governor, the first being Lurleen Wallace back in 1967.
"Serving as your governor and representing the state of Alabama is no small task, but I pledge to each of you I will do my best," said Governor Ivey. "The Ivey administration will be open, transparent, and it will be honest."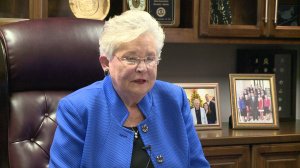 Ivey is from Camden, Alabama in Wilcox County. She graduated from Auburn University in 1967, and worked as a high school teacher and a bank officer after graduation.
According to her biography, she served as the Reading Clerk of the Alabama House of Representatives and Assistant Director of the Alabama Development Office. In 2002, Ivey became the first Republican elected State Treasurer since Reconstruction and was re-elected in 2006.
In 2010, Ivey announced she was running for governor, but she exited early and announced plans to run for Lieutenant Governor instead.
When Ivy was elected Lieutenant Governor in 2010, she became the first Republican woman to hold the office in Alabama's history. She made history again in 2014 by becoming the first Republican Lieutenant Governor to be re-elected.
The swearing-in took place at 6 p.m. in the Old Senate Chamber in the Alabama State Capitol.