This is an archived article and the information in the article may be outdated. Please look at the time stamp on the story to see when it was last updated.
MONROVIA, Ala. (WHNT)-- April 27, 2011 changed things forever in North Alabama for lots of people.
As we approach the three-year anniversary of the terrible storms that left neighborhoods flattened and families broken, one teenage girl is hoping to honor those victims by showing a community standing strong together.
"In the weeks after the tornadoes, I witnessed countless acts of selflessness and service that strengthened my sense of community and gave me the desire to serve others in a similar capacity," junior Erin Rountree says.
The Sparkman High School junior's father has served on the volunteer force for 18 years. Rountree says she witnessed first hand the hard work volunteers like her dad did in the days and weeks after the storms hit.
Now three years after the storm, Rountree says she felt moved to do something to honor the victims and the heroes from that dark day.
She will host a blood drive and community open house at the fire house on Saturday, April 26th, one day before the anniversary.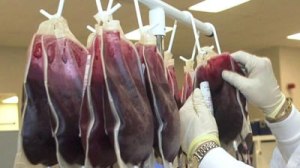 The blood drive and open house will be hosted on Saturday, April 26, 2014 from 11 a.m. until 4 p.m.
There will be hamburgers and hotdogs served from noon until 2 p.m.
Donors who are 16 years old will need to fill out a parental consent form before donating. Anyone age 17 and older may donate without the form. All donors should bring a list of medications currently being taken and a photo ID. Walk-in blood donations are welcome, but there is also an option to schedule an appointment ahead of time.
"In addition to donating blood, members of the community will have the opportunity to tour the fire station, see the fire trucks and other equipment, win door prizes and learn about fire prevention," said Rountree.
www.monroviafire.org for more information.