This is an archived article and the information in the article may be outdated. Please look at the time stamp on the story to see when it was last updated.
LIMESTONE COUNTY, Ala. – A Harvest couple is facing charges for selling a totaled car with a title that indicated it had never been damaged.
The Limestone County Sheriff's Office said it also is looking for other possible victims who may have bought a car from Andrey and Iryna Shvets, who were arrested Thursday.
Investigators said a family contacted them at the beginning of October about the car they purchased from the Shvetses. The VIN number showed the car had been wrecked in Mississippi and was declared a total loss before the Shvetses bought it, the sheriff's office said.
That was a different story than what the victims were told. Authorities said the victims met Iryna Shvets in late 2017 to buy the 2016 Nissan Maxima, which was listed online for $25,999. Shvets told them she had just had a baby and needed a bigger family vehicle,  and the vehicle had only had a cracked windshield replaced when she bought it, authorities said.
When the victims bought the car, authorities said they received a title that indicated the car was clean. The fraudulent title wasn't discovered until June, when the victims decided to list the car for sale online.
Investigators looking into the case said they found a pattern of the Shvetses selling vehicles online and found a large amount of evidence in the family's home on Lantz Court when they executed a search warrant.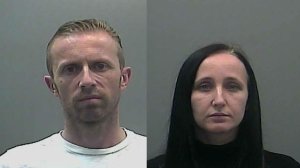 The couple was arrested Thursday and charged with possession of a forged or altered title, first-degree theft and deceptive business practices. They were released from the Limestone County Jail after posting $8,500 bonds.
Investigators said they believe there may be other victims unknowingly driving totaled vehicles they bought from the Shvetses. The sheriff's office recommended searching your vehicle's VIN on the internet and contacting law enforcement if the title and VIN history don't match.