This is an archived article and the information in the article may be outdated. Please look at the time stamp on the story to see when it was last updated.
MADISON COUNTY, Ala. (WHNT)-- It's hard to catch 10-year-old Chesney Forsyth without her smile. That is, except when she has her seizures.
"She has cerebral palsy and epilepsy that she started at age 3," said Chesney's mother, Kari Forsyth. "She has small [seizures] all day long. It's the big ones that scare us, to the point where anytime I wake up at night, I look just to make sure she's breathing... You never know when the big one is going to happen, where she doesn't wake up."
It's a continued fight to find the right medicine for her condition, and make sure it keeps working. They've been through a variety of prescription drugs and even brain surgery to help. But out of research born from desperation, Kari discovered Cannabidiol (CBD) oil. Derived from cannabis, it is being used to treat severe seizures and other disorders.
It's legal in states where marijuana and medical marijuana are legal, but not in Alabama. Tennessee also allows use of the oil.
"In the South, it's marijuana. That's all they hear," said Forsyth. "10 years ago I'd be like, 'You're crazy to think I'm going to give my kid marijuana.' But now that it's my last hope, I'll go and search for it."
Several years ago, Representative Mike Ball fought for Carly's Law with an army of parents. Certain stipulations of the law as it passed, though, prevented people like Chesney from having access to clinical trials, and excluded her from getting a dose of the drug.
It even drove some parents from the state. Amy Young told WHNT News 19 it was impossible for her to use the drug to treat her daughter, Leni. The family ended up moving to Oregon, "refugees" as Ball calls them, to get access to the treatment. The week she started treatment, Young said she saw a difference in Leni. She said her daughter went from unable to hold up her head, to alert and able to watch movies. Now 4 years old, Young said Leni can give hugs and kisses.
"The side effect we noticed-- she gets her life back," Young said. "We are incredibly hopeful."
It's the kind of hope people in Alabama are still yearning for. Young said, "We just hope others get the same opportunity that Leni's had without having to move to get it. Doctors should determine your medical treatment, not your zip code."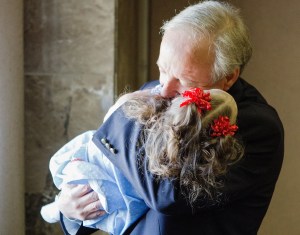 That's part of what led Rep. Ball to craft what he's calling, "Leni's Law." A beautiful photo of him holding Leni, taken by Grace O'Conner, shows just how strong and faith-driven Ball's fight for these children has become. He said it's a spiritual experience meeting them in this process, and he's ready to open more doors to the treatment in Alabama.
"They should not be under fear of prosecution," Ball said of families seeking help. "These families are not criminals."
He explained that he's not a proponent of legalizing marijuana. He just wants this oil available to those who need it for medical reasons. It's low THC, he says, and not psychoactive so it can't give you a high. "It's not recreational," Ball said. "There's not a reason that this stuff should be illegal anyway."
Parents like Forsyth are ready for the legislation to become law.
"It's either let [our children] sit there and just eventually die, or... you've got to get it somehow," said Forsyth. "Just think of, what if this was your child? Or your grandchild? And knowing that a zip code is keeping you from getting the medicine you need."
Rep. Ball said the bill should be finished this week. He's expecting to introduce it the first day of the upcoming Legislative session, which starts February 2, 2016.