This is an archived article and the information in the article may be outdated. Please look at the time stamp on the story to see when it was last updated.
NEW ORLEANS, La. (WHNT) – Tuesday, September 23, at 8 p.m. on WHNT News 19, the latest show in the NCIS franchise will debut.   One of the key parts of the new series will be Lucas Black who hails from the Speake community of Lawrence County.
WHNT News 19 recently visited with Black on the set of the new show which is actually being shot in New Orleans.  He portrays a character named Christopher Lasalle, a NCIS special agent.
"He moved to New Orleans," Black said.  "So he is a transplant.  And he's been here about 10, 10 to 11 years.  So, they have written that into the episode.  So it's cool to be playing somebody from Alabama, growing up there, born and raised there."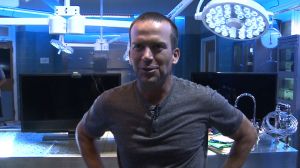 And just like himself, Black's character is also a big Alabama Crimson Tide fan.
"Yeah, absolutely.  The first episode we did, they let me throw in a Roll Tide which is pretty cool.  It's a really good scene actually."
The premiere is Tuesday at 8 p.m.
See pictures from our visit to the NCIS: New Orleans set below.
L to R: Carson Clark, Lucas Black on the set of NCIS: New Orleans (Photo: Carson Clark/WHNT News 19)

L to R: C.C.H. Pounder and Carson Clark on the set of NCIS: New Orleans (Photo: Carson Clark/WHNT News 19)

Carson Clark at the desk of the Jefferson Parish Coroner's desk, on the set of NCIS: New Orleans. He said it was very realistic, and the calendar on the filing cabinet even had events added to it. (Photo: Carson Clark/WHNT News 19)

The morgue set, in the Jefferson Parish Coroner's Office in NCIS: New Orleans. (Photo: Carson Clark/WHNT News 19)

L to R: Carson Clark, Lucas Black on the set of NCIS: New Orleans (Photo: Carson Clark/WHNT News 19)

Scott Bakula, in the white shirt, talks with reporters during the press tour on the set of NCIS: New Orleans. (Photo: Carson Clark/WHNT News 19)