This is an archived article and the information in the article may be outdated. Please look at the time stamp on the story to see when it was last updated.
MOULTON, Ala. (WHNT) – Lawrence County Sheriff Gene Mitchell says he has complied with a judge's order and formally notified the Decatur Daily newspaper that he does not have documents related to a fatal deputy-involved shooting they sued him for access to.
The newspaper's lawsuit sought access to Incident/Offense Reports, transcripts of 911 calls, dash cam or body camera video and any disciplinary records stemming from the March 19th shooting death of 39-year old Shane Watkins, described by the newspaper as a mentally ill man. Mitchell says all of the materials were turned over to agents with the Alabama State Bureau of Investigation as soon as they took charge of the investigation.
A March 19th news release from Mitchell's office says deputies responded to a domestic disturbance call at Watkins' home in the Lang Town Community. It says Watkins charged at the deputies with a weapon, later described as a box cutter type of knife, ignoring warnings to drop the weapon. One of the deputies shot Watkins, killing him.
In the days that followed, Watkins' family told reporters they had been trying for days to get mental health care assistance for him, saying he was scheduled to be examined later in the day that he died.
Mitchell has thus far refused to publically identify the deputy who shot Watkins citing threats against the officer's safety. He also declined to release details of evidence gathered at the scene of the shooting explaining their entire file had been turned over to state investigators. It is customary for law enforcement agencies to ask outside agencies to handle investigations of their own personnel to help guarantee impartial results.
Lauderdale County Circuit Court Judge Gil Self, who heard testimony in the newspaper's lawsuit Friday, ordered Mitchell to produce certain records before noon Saturday if they were in fact in his possession.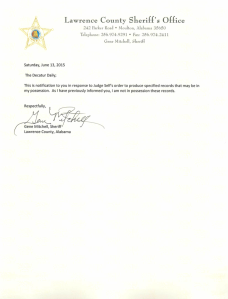 In a letter to the newspaper dated Saturday, June 13, 2015, Mitchell writes, "This is notification to you in response to Judge Self's order to produce specified records that may be in my possession. As I have previously informed you, I am not in possession (of) these records."
A Lawrence County Grand Jury is scheduled to take up the shooting of Watkins later this month.