This is an archived article and the information in the article may be outdated. Please look at the time stamp on the story to see when it was last updated.
MADISON COUNTY, Ala. – The Madison County Sheriff's Office is currently searching for a man suspected of murder.
Police say 45-year-old Steven Brooks has an outstanding warrant for the crime stemming from Pinellas County, Florida. He is suspected of murdering 59-year-old Caroline Morton at Pinellas Park on February 12.
He still remains at large in the Harvest community. Brooks was last seen wearing black pants and a black over brown shirt.
If you know of Steven Brooks whereabouts, you are asked to call the Madison County Sheriff's Office at 256-722-7181.
The Timeline:
A heavy law enforcement presence was formed on Loganberry Lane and Shortleaf Lane in Harvest around 9:00 Wednesday night.
Viewers who live in the area tell us that the power to the small neighborhood was cut. Several people reported having issues getting home and neighbors said they believed a man was barricaded inside a home.
Later, things changed. Video shot at the scene shows a car speeding away from the area, around the law enforcement vehicles barricading the street and nearly hitting a deputy cruiser. Our crews also barely made it out of the way.
MCSO deputies, Alabama State Troopers, and SWAT team members followed the vehicle in a pursuit that ended near County Line Road near Yarbrough Road.
Our crew reported hearing noises that sounded like gunshots. Deputies surrounded the area and appeared to set up a perimeter.
Law enforcement says vehicle the man drove away in was stolen from the house where he was barricaded.
They believe he may have set the car on fire near the Limestone County prison as a distraction, and ran off into the woods.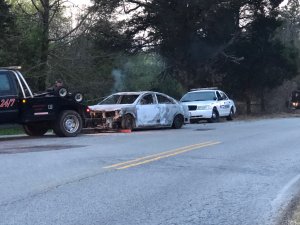 Authorities believe Brooks stole a 2016 white Chevy Silverado 3500 with the AL tag# 44DG566. The truck was stolen around 1 a.m. from an area 9 miles west of where the stolen vehicle was burned. The Limestone County Sheriff's Office is checking into any possible connections.
The Madison Police Department, as well as the Huntsville Police Department, are also assisting in the search. U.S. Marshals are bringing in additional resources to aid in the search.