This is an archived article and the information in the article may be outdated. Please look at the time stamp on the story to see when it was last updated.
ILLINOIS (AP) – A large tornado has touched down near the central Illinois community of Rochelle, and authorities say initial reports indicate it has caused significant damage.
An Illinois emergency management spokeswoman said one person was killed as a result of storms in Fairdale, Illinois. Officials say seven people were hurt in the storm.
Click here for live blog updates from our sister station WGN Chicago.
A sheriff's dispatcher who declined to give her name due to department policy said there was widespread damage but no immediate reports of injuries when a tornado swept across the town of Hillcrest, about 80 miles west of Chicago.Winnebago County Sheriff's spokesman Ken DeCoster says funnel clouds also were spotted near Rockford, but did not touch down. However, television footage showed multiple homes damaged in the incorporated community of Fairdale.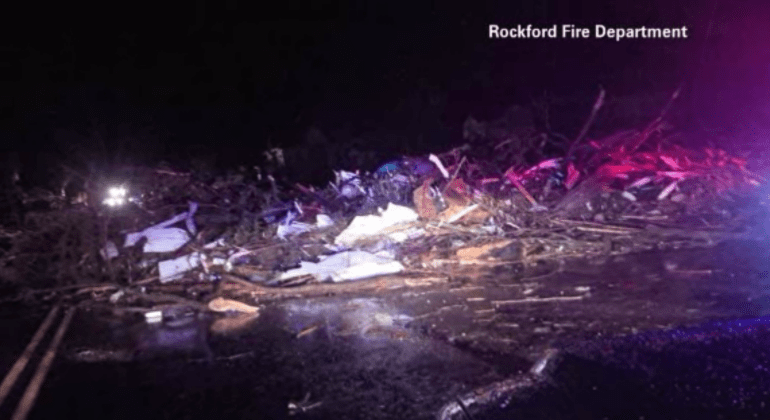 Tornadoes were reported earlier Thursday near Peoria, and Dewitt, Iowa, but no damage was reported.
The strong storm front affecting the Midwest and Plains was moving east Thursday night.
Work continues in #Fairdaletornado. All structures in town are damaged. pic.twitter.com/qf2cVTUGlz

— Rockford Fire (@RockfordFire) April 10, 2015
#Fairdaletornado pic.twitter.com/PBe1KzBJWi

— Rockford Fire (@RockfordFire) April 10, 2015