This is an archived article and the information in the article may be outdated. Please look at the time stamp on the story to see when it was last updated.
Attorneys from Orange County, Ca. want Mississippi's state flag removed from a display in Santa Ana's downtown civic center, saying its Confederate design symbolizes racism and hatred.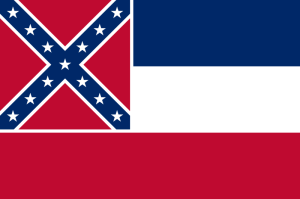 Mississippi's state flag is the last to feature The Confederate Battle Flag — a symbol, "inextricably linked to a legacy of racism, exclusion, oppression and violence," the Newport Beach-based Orange County Bar Assn. said in a statement.
The flag is displayed along with all other 49 state flags in the Santa Ana Plaza of the Flags. The civic center also includes the county's central courthouse. The Orange County Bar Assn. recently passed a resolution seeking the flag's removal from the plaza.
"I am proud of the board of directors for passing this important resolution on the 150th anniversary of the Gettysburg Address," Orange County Bar Assn. President Wayne Gross said in a statement. The emblem, he added, "has no place in or around courthouses."
Click here to read the full story on LATimes.com.