This is an archived article and the information in the article may be outdated. Please look at the time stamp on the story to see when it was last updated.
HUNTSVIILE, Ala. (WHNT) - Nine Korean War veterans returned to the Tennessee Valley on Wednesday, after visiting the country they fought in decades ago. 
Their plane entered through a water cannon shower entrance, and dozens of people welcomed them with cheers and American flags.
The veterans were part of a week-long dignitary trip back to South Korea. Choking back tears, veteran Billy Neal, who served in the 7th Division in Korea starting in September of 1950, told the crowd this trip meant the world to him.
"There are really not words to express how thankful I am to have gotten to go back and see how much progress the Korean people have made since the last time I was there," Neal said.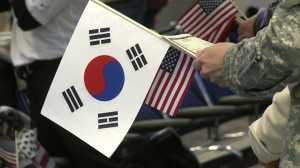 Neal was one of the nine local Korean veterans asked to attend the trip to South Korea. 
K.C. Bertling is a South Korea native who works at Redstone Arsenal.  She and her husband Sam launched the Korean War Veterans Foundation in January 2011.
It is an off-shoot of a program called Korea Revisit, started by the Korean Veterans Association in Seoul in 1975.
"We're the only organization in the world sending veterans as a group to a country they helped defend," K.C. Bertling said. 
While in South Korea, veterans attended a wreath-laying ceremony at the National Cemetery in Seoul before traveling by a "bullet train" to Pusan.  It's an 800-mile ride to the country's southeastern coast for tours.
In Pusan, they attended a program at the United Nations Cemetery, meeting with Korean War veterans from other countries.
Veterans also visited it the Korean War Memorial and the demilitarized zone at Panmunjom. The DMZ lies along the 38th parallel, where the armistice was signed.
There are plans to send another group of Korean War Veterans back to South Korea in 2013.  Here's more information about the next trip.