This is an archived article and the information in the article may be outdated. Please look at the time stamp on the story to see when it was last updated.
When I realized I had read the IronTribe schedule wrong, my first thought was "Oh no."
I was in the PUSH class. The class in the gym getting ready to work was POWER.
There was a big difference.
PUSH is a class designed for those more interested in cardio work and less interested in strenuous weight work.
POWER is a class designed for people comfortable with, and have been trained for, lifting weights quickly in a challenging environment.
The classes are supposed to be designed for an almost equal workout with different emphasis depending on what you want to accomplish.
But the POWER class … a few of us in the PUSH class would just go in the gym and watch in awe as the POWER people worked out.
It was intense. And it was inspiring.  And despite the best intention of the coaches, it was intimidating to me.
I was turning to leave and then heard a big voice.
"BIG G! WHERE YOU GOING?"
It was Ken Darby. A cool guy with a big teaching heart.
I explained to Ken I had the wrong class and would come back the next day.
"No man. Stay with us. Just do what you can do. I will keep an eye on you."
He wouldn't let me leave.
"We're gonna do it right and we're gonna work hard Big G!"
This from a man who has been through the SEC and NFL wars and now was taking time to make sure I did back squats without hurting myself.
Darby knows about patience and has a teaching heart.
He knows perseverance and determination, and he knows what it's like to get up one more time when you get knocked down.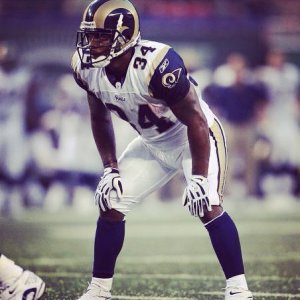 When Darby played in the NFL, he wasn't the highest player in the league, but he made more than most of us do.
Darby thought he had found a financial advisor he could trust. He interviewed Keith Michael Rogers and put him on a 30-day trial.   That went well and Ken thought he had his guy that would look out for him.
"I had a good vibe off him. A good relationship building and it went from there."
Darby focused on his NFL career. Rogers focused on taking his client's money.
From one client, Rogers stole over $2,000,000. From Darby, he took almost $300,000.
Lawyers representing another client asked Darby for a meeting and laid it out for him.
"You could see where fraudulent stuff was taking place that looked legal. But it wasn't legal. He was taking a lot of money from me but from this family as well."
Rogers is now in prison scheduled to be released this summer.
It's the sort of financial hit that people don't recover.
But for Ken Darby, the recovery was anchored by faith.
"Growing up. Being taught the word. The Word of God. The human nature in me was boiling. But the Christian in me will help me get through this. I knew for a fact I had to forgive this man. If I could forgive this man, that, of course, would release the anger that I had. And it won't cut off the blessings that God has for me and my family."
And now, having weathered that storm, Ken Darby goes about the business of helping people. He coaches at IronTribe.   Darby also helps people get, and keep, a roof over their head.
"I have an investment and real estate company where we help a lot of people in any kind of real estate problem they may have with their home. That is one way of giving back and helping people. As you like to say, I like to help people. That is one of the things I was blessed with. I just don't look at myself as Ken Darby the football player, the ex-football player, I look myself as a servant. I like to serve people."