This is an archived article and the information in the article may be outdated. Please look at the time stamp on the story to see when it was last updated.
MADISON COUNTY, Ala. – Leaders in local school districts say they take school safety seriously. Some are even exploring security laminates to put on glass windows, designed to create a barrier for someone who wishes to get inside and do harm.
In Madison County Schools, WHNT News 19 previously reported that several unidentified schools have partnered with EverSafe Security Solutions to fortify certain lobbies to slow down anyone trying to break the glass and get in.
"We want people to have access to the front office, but we don't want them to have access to the students," remarked Kerry Wilkerson, Madison County Schools Chief Operations Officer last August. Wilkerson said he is passionate about student safety, adding at the time: "We want parents not to worry and to know their kids are safe during the day."
WHNT News 19 put that same laminate to the test to see how it holds up against impact.
The Laminate
We talked to John Warren, Director of Security Operations at EverSafe Security Solutions, about the product.
"EverSafe was formed about 7 years ago. It's a privately owned company but we are locally managed. We have offices in Madison Alabama, but we do this work all around, primarily in the Southeast," he said.
Warren and his team met with WHNT News 19 at the Madison County Sheriff's Office, where we (along with deputies who are trained) could observe the sample of glass they brought along.
"On the outside, front and back, we have a laminate. Not a film, but a laminate," Warren said. "The difference in us and other products, is we keep bad people out."
Warren noted that a bullet may go through glass that has this laminate, but it is able to keep the glass in place.
"Even though you might attack it with a ball bat or even have an aggressive shooter that tries to shoot his way through into a school building, you may penetrate with a bullet but it's still going to encapsulate the glass. It doesn't become shrapnel."
Warren said the way the glass breaks means it does not shatter and immediately break. It takes much more effort than a simple bullet or a smash with a bat to do enough damage to punch a hole and get inside. He said it is all about time.
"With this system, I do call it a system, it buys time. If you have an aggressive shooter, the police are always minutes away. We are actually selling time," Warren stated. "We give school systems time for the SWAT teams, or local authorities, to take down the bad guy. While on the inside, everyone is safe. They might be scared, I would be too, but this keeps them safe and it buys enough time for that response."
We asked Warren how it works.
"Well, it withstands a lot of dynamic pressure as we found it," he said. "What intrigued us was the US Department of State put this product on all their glass in very US Embassy around the world. And it does one thing with IED blasts, for example. It defeats that overpressure and then the flying missiles. This has been tested, there's a flying missile test that this exceeds."
He said the laminated glass is also hurricane-rated, and that it could also serve a protective purpose during a tornado as debris flies toward the windows of a home.
"It simply keeps everything together, the glass, so that whatever pressure is exerted against it, it will not blow out the glass," he stated.
The Demonstration
We were unable to use a firearm to penetrate the glass because we did not test the product at a range.  EverSafe provided WHNT News 19 with video of a firearms demonstration the company has on hand.
While the bullets penetrated the glass, the laminate held it together. Some cracks were visible, but the laminate held them in place.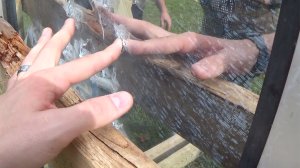 It felt crunchy when a person touched it, but did not break apart and fall to the ground. Multiple rounds were used to simulate how the glass would react against gunfire.
At our test, Madison County Sheriff's Office's Captain J. R. Bullock took a big swing at the glass with a bat. It was a solid hit, but the glass remains in place. He remarked that the bat almost reverberated backward, instead of causing the glass to give and break.
18 hits later, he's making a dent in the glass and starting to see it shatter within the confines of the laminate. A hole is now visible, but it's grueling work at this point.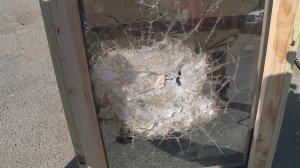 "It's very tough," he said. "The amount of effort it takes to get into this is different."
He said there's something to the idea of buying time for a response to arrive.
"I think every second counts, and when you have that barrier to buy you that extra precious session, that's one life you can save," he stated. "Our job is to preserve life. Knowing that once we are there that the people who rendered alarm are still alive and able to assist us in helping locate the offender, is a major deal."
Conclusions
Based on the size of the hole he was able to create in the laminated glass, Captain Bullock still didn't think he would be able to get through it.
He said based on his experience, if a school had that on its lobby windows, and someone tried to get in. "There's an outstanding chance we will have time to get there before they're able to get to the other side of that barrier."
In this new era, safety is a luxury none of us can take for granted.
Leaders are constantly reminded that they can't forget what they guard against.
"This is defense in depth," Warren said.
He said this product means a lot to him as a family man. He likes knowing it's on some of the schools already, and he hopes to work with more area schools in the future.
"I'm a father and grandfather," Warren said. "Some of my family went to these schools in Madison County. And now we have a grandson in one of the schools. This is something I am extremely passionate about."
He said the demand for EverSafe's products is changing.
"The demand for this is skyrocketing," he said. "We track hits on the website. They're off the chart. We get a lot of customers that call, they want us to come assess their building. Their home.  And we do that, of course, free, but then we start helping that client plan for something. Plan for an event. Be it weather related or be it manmade. So we are helping people plan to secure themselves and their valuables."
Watch WHNT News 19 This Morning for a parent group's honest reactions to your Keeping Your Kids Safe set of Taking Action Special Reports