This is an archived article and the information in the article may be outdated. Please look at the time stamp on the story to see when it was last updated.
HUNTSVILLE, Ala. (WHNT) – A Limestone County jury has found Alabama state trooper Heath Moss not guilty of criminally negligent homicide in the deaths of Jamie and Sarah Gossett. The couple was killed on April 25, 2011, when Moss' patrol car struck the back of their vehicle on Lucas Ferry Road.  On the stand, Moss admitted he had been driving 120 mph on his way to a call just prior to the crash.  However, he told the jury he did everything he could to avoid the Gossett's car.  Moss said he hit his brakes and might have missed them had they not swerved in front of his cruiser.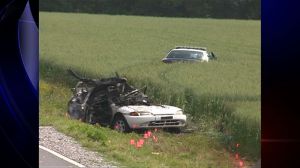 The victims' relatives believe differently.  They point to electronic data taken from Moss' patrol car. Looking over those documents following the verdict, John Gossett – Jamie's brother – gestured to a section detailing time and speed that showed three seconds before the crash, the brake switch in the cruiser remained off. Reacting to the jury's decision, he said, "apparently you need a license to kill in this state.  You need to be a trooper."  His sister, Regina Mabrey, also visibly distraught said, "I hope Heath Moss cannot sleep at night."  She added, "he's going to have to live with it the rest of his life and we will, too.  We will never get over this.  Never."
Moss declined to comment to the media following the verdict.  However, his attorney – Jim Woolley of Birmingham – expressed sympathy for the Gossett family's loss and a hope that his client would now be able to move on.  Of Moss' future in law enforcement, Woolley said, "he hopes to go back and resume his duties. He has not been suspended. He has been working the entire time. He wants to go back and do what Heath loves to do and that's serve people."
A civil lawsuit against Moss is still moving forward.  Filed by a representative of Jamie and Sarah Gossett's estates, it seeks unspecified damages.  A jury trial is scheduled for January 6, 2014.