This is an archived article and the information in the article may be outdated. Please look at the time stamp on the story to see when it was last updated.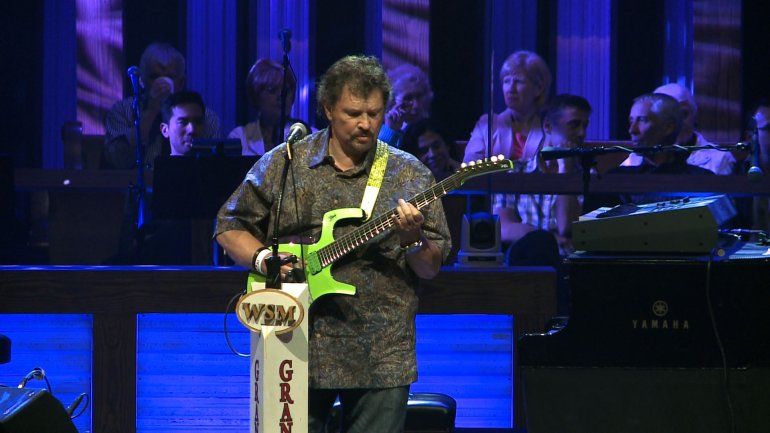 Jeff Cook, lead guitarist and a founding member of the country music group Alabama, has Parkinson's disease. His family, close friends and other members of the band have known about his battle for several years. Jeff is just now going public. His health has gotten to a point where he's having trouble playing the guitar and fiddle. Here's the official statement released by Jeff and the band.
"Approximately four years ago, I was diagnosed with Parkinson's Disease. This disease robs you of your coordination, your balance and causes tremors. I also know that not every case is the same, and affects people in different ways. For me, this has made it extremely frustrating to try to play guitar, fiddle or sing. I have tried not to burden anyone with the details of my condition, because I do not want the music to stop or the party to end, and that won't change no matter what.

I'm not calling it quits, but sometimes our bodies dictate what we have to do, and mine is telling me it's time to take a break and heal. I do believe in prayer and I appreciate all the continued prayers throughout this difficult time.

And I love these guys, Randy and Teddy, and I love everyone in the group Alabama and especially our fans. I want our fans and everyone involved to know I do support the decisions made by Randy and Teddy as they continue to support mine. I do plan to be at some of the shows and events when possible and I hope to see you there. Just remember, life is good, and as long as you're breathing there are no bad days."

Jeff Cook and Jerry Hayes at "Jeff Cook Daze" in Guntersville, in August 2016. (WHNT News 19 File)
In a brief telephone conversation this morning, Jeff told me that he won't be touring as much with the band but he will make as many shows as he can. Those will most likely be the ones closest to home. He mentioned that he'll be at Alabama's upcoming Fan Appreciation Weekend in Fort Payne. That's scheduled for June 15-17. He said his concert at the DeKalb Theatre on the 16th will probably be his last with Jeff Cook and the AGB or Allstar Goodtime Band. Here's ticket information.
On a personal note, Jeff told me several years ago about his diagnosis but he told me as a friend, not a reporter. Several months ago when I talked to him, I asked him how he was doing. He replied, "I'm just playing the cards I've been dealt." I've never heard Jeff complain or question why this is happening to him. Like the song "No Bad Days" on Alabama's Southern Drawl album, Jeff will continue to try to get better. Some of the lyrics to that song really hit home. They're worth sharing.
"When the sun just ain't shining, and the end is not in sight
Have faith in the shadows and you'll find light
It's amazing, the view when you're down on your knees
You may not get what you want, but you get what you need.
Life is so fragile
It can change on a dime
Don't put off till tomorrow
You might just run out of time
Tell someone you love them before it's too late
We're not promised tomorrow
So there's no bad days
As long as your heart's beating
There's no bad days
You've got something to believe in
There's no bad days
As long as you're dreaming, preaching, seeking
Make no mistake
As long as you're breathing
There's no bad days"