This is an archived article and the information in the article may be outdated. Please look at the time stamp on the story to see when it was last updated.
MARSHALL COUNTY, Ala. (WHNT) -- As the investigation into 15-year- old Jason Richards' death continues his family is hoping for answers, and holding on to memories.
Jason Richards was reported as a missing person in February. Months went by. In May, detectives found Jason's body near the Langston community, on the edge of Marshall County. Police say the body was in a rural area, only found because of a tip.
The cause of death is reported as a single gunshot.
The details are limited in the investigation. No arrests have been made just yet, but Albertville Police say right now the case is closer to the end than the beginning. Officers say it has been a long process, molded together by countless hours and work.
As that investigation continues, there are people who remember Jason as more than facts and dates, more than reports and tips.
He was a son, a brother, and a nephew.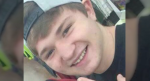 Lee Richards and his family thumb through 15 years worth of memories. School certificates, framed and unframed pictures scatter a table.
Richards is Jason's uncle. "Jason was, from infancy he was just, he was full of life," Richards says, "His laugh never changed from the time he was real little to a 15-year-old. I mean, he just had the cutest laugh."
"He was a very loving, caring individual with everybody. He was a great kid. He really was."
Those memories go deeper than police reports and missing posters. As the case goes on, Richards says the family is hoping to get answers. "We've got too many questions we don't have answers for is all," Richards says, "It's a bit frustrating, but you know, we understand."
Those hard case facts that the public knows don't tell the story of a young man whose life was ended too soon.
"You know, he's not just a name on a sheet, or a poster, a missing poster," Richards says, "In Albertville, Guntersville, we all know and love Jason for the caring sweet boy that he was."
"We have to go on living, but we also just want Jason to be remembered."