This is an archived article and the information in the article may be outdated. Please look at the time stamp on the story to see when it was last updated.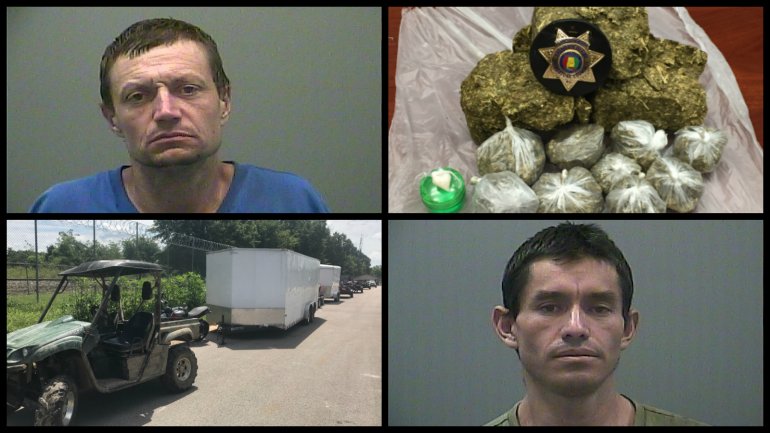 LIMESTONE COUNTY, Ala — Two Elkmont men are facing multiple drug charges after investigators say they recovered marijuana, methamphetamine, and over $150,000 worth of equipment that had been stolen across three different states from one of their residences.
According to Limestone County Sheriff's Office, a burglary on August 17 helped lead investigators to the discovery. Investigators say after they discovered a large amount of stolen jewelry along with a stolen John Deere Gator that was hidden on a lot off Yarbrough Road, several leads led them to a residence on the 23000 block of Pepper Farm Lane. After securing a search warrant, investigators say they searched the residence of 34-year-old Homero Corona. Investigators say they discovered several stolen items including:
3 four-wheelers
1 zero-turn mower
3 utility trailers
1 Ford F-150 pickup truck
1 rifle
1 Polaris Ranger
Numerous stolen power tools, yard tools, and other various items.
Investigators say they also found meth and a large amount of marijuana at the residence. They arrested both Corona and 38-year-old Nickie Gene Haggermaker, who were both at the residence at the time.
During the search investigators say they also found a document indicating more stolen property was being stored at another property on Slate Road. After contacting the property owner investigators say they were allowed to search the property, and located the following items in the barn and the surrounding woods:
1 motorcycle
1 industrial generator (worth $30,000)
1 concrete mixer
1 Yamaha Rhino
2 John Deere zero-turn mowers
1 Toro zero-turn mower
1 air compressor
1 8×20 enclosed trailer
1 8×14 enclosed trailer
4 utility trailers
1 .22 rifle
1 Chevrolet 1500 truck.
Security video in the area captured Homero Corona, Nickie Haggermaker, and two other suspects entering the area at the time the stolen items were left on the property. The property was stolen out of multiple jurisdictions in Alabama, Tennessee, and Georgia. The investigation remains open at this time, and additional arrests and charges are expected.
Corona faces charges of drug trafficking, possession of a controlled substance, and possession of drug paraphernalia. He is currently being held in the Limestone County Jail without bail at this time.
Haggermaker faces charges of first-degree illegal possession of marijuana, possession of a controlled substance, and possession of drug paraphernalia. He is currently held in the Limestone County Jail on $10,000 bond.