This is an archived article and the information in the article may be outdated. Please look at the time stamp on the story to see when it was last updated.
MADISON COUNTY, Ala. (WHNT) - The victim and suspect in a weekend shooting are dead. Deputies with the Madison County Sheriff's Office continue to work the case. Investigators announced an arrest Monday afternoon.
Deputies arrested Candice Burgess. A spokesman for the sheriff's office told WHNT News 19 Burgess did not pull a trigger, but made a bad call when she picked up a telephone.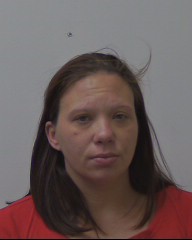 Burgess is charged with hindering prosecution in connection with a shooting death on Jordan Road.
"Candice assisted Scott Carter in leaving the state. Her vehicle was actually not stolen. She reported it stolen trying to cover all bases," said Madison County Investigator Sergeant Brian Chaffin.
Sgt. Chaffin identified Carter as the shooter. Investigators say Carter killed Amy Murphy Saturday. Sgt. Chaffin confirmed to WHNT News 19 Carter committed suicide Sunday in Arkansas.
Investigators believe Murphy and Carter argued before the shooting, but don't know why.
"That`s a big question, why. That`s a word that is so hard to answer. We don`t know exactly why. We don`t want to speculate on why he committed this terrible crime," added Sgt. Chaffin.
Sgt. Chaffin says several reasons will keep investigators working the case even though the suspect and victim are dead.
"We can answer all questions and make 100% that all of our investigative leads have been followed up on, there are no other possible offenders and the only person who did that terrible crime is him," added Sgt. Chaffin.
Burgess is in jail in Arab. Deputies are working to bring Burgess to the jail in Madison County.