This is an archived article and the information in the article may be outdated. Please look at the time stamp on the story to see when it was last updated.
MORGAN COUNTY, Ala. (WHNT) – Over the past week, thousands of people have enrolled in the federal and state health care exchanges set up under the Affordable Care Act – also known as Obamacare. There have been success stories, as well as reports of others not able to get through the system due to technical glitches.
However, while millions of the nations' uninsured hope to soon have affordable health care coverage, others here in Alabama are now getting letters indicating their premiums will soon double.
Stay-at-home mother of four, Courtney Long, was shocked when she received a notice from Blue Cross Blue Shield of Alabama stating that come January her family's individual health insurance policy premium would increase from $352 per month to $796.
"It's devastating. I started crying," said Long. "I mean, we have worked so hard to get out of credit card debt, get ahead on the car loan, transfer our mortgage to a 15 from a 30 year mortgage… and for what?"
Long's story is not unique. WHNT News 19 has received calls, emails, and Facebook messages from people who have received this same letter – alerting them their premiums were set to double (anywhere from $290/mo-$599/mo to $603/mo-$1060/mo).
Robby Zirkelbach, spokesman for policy advocate organization *America's Health Insurance Plans (AHIP), which represents health insurance providers, says prices are going up as insurance companies work to comply with ACA regulations.
"The law requires all policies cover a minimum set of essential health benefits, many of which are not included in in policies today," explained Zirkelbach. "So people will be getting policies that are more comprehensive, but will be more expensive as a result."
For Long, that means her family will now have coverage for mental health and substance abuse counseling, but routine doctor's visits for her children will be limited.
"Three visits per child are included before the deductible is met. Anything after three visits, you have to meet your deductible," said Long. "I have a 3-month-old. We'll meet that in half a year."
The new premiums also include the cost for a new health care tax, implemented by the law.
"That's going to operate like any other sales tax and add to the cost of health care coverage," said Zirkelbach.
The tax is to the tune of $100 billion over the next 10 years. That cost is being paid by insurance companies and the insured.
"That's something our industry thinks should be repealed because it is undermining the goals of health care reform," said Zirkelbach. "An average family is going to pay an extra $360 in premiums just from that tax alone."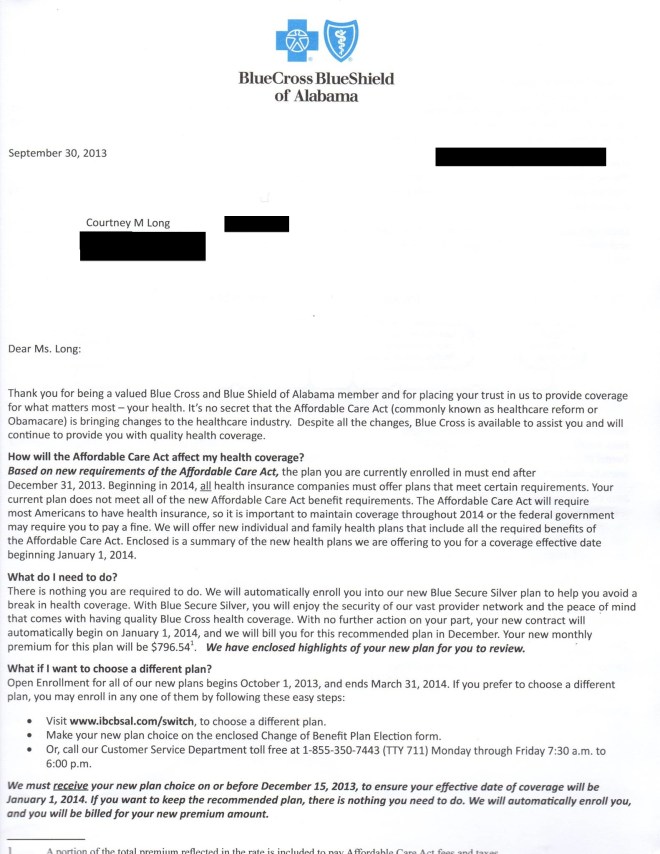 WHNT News 19 reached out to Blue Cross Blue Shield of Alabama. In an email correspondence, spokeswoman, Koko Mackin, explained the premium hike this way:
"Due to the requirements of the Affordable Care Act, we are offering new health plans – and along with these new plans are new premiums. The Affordable Care Act expands health insurance coverage to more Alabamians and broadens benefits.  With coverage that includes more benefits, prices may increase.  The Affordable Care Act's impact on premiums varies based on several factors:  the health plan you choose – bronze, silver, gold or platinum; where you live; the number of members in your family,  their ages, and whether you use tobacco."
However, some families may be eligible for for tax credits to help afford the increased premiums. Mackin explains:
Some individuals and families may qualify for advanced premium tax credits that may lower the amount of premiums they pay for coverage.  To be eligible for these premium tax credits, an individual's annual income must be less than $45,960, and a family of four's annual income must be less than $94,200.
Long says she and her husband have shopped for a new plan.  However, she says comparable plans are priced similarly to the new increased rate.
She says she does not want to find a plan through the federal health care exchange. Others say they will have no choice but to scrap their current plans and either head to the exchange or pay the penalty.