This is an archived article and the information in the article may be outdated. Please look at the time stamp on the story to see when it was last updated.
A few weeks back, we test the Music Bullet.  The Music Bullet is a mini-speaker you can plug in to a variety of smart phones to enhance the downloaded music. In English, that means you can play it really loud.
The Music Bullet cost $14.99, and if you keep an eye out you can find it cheaper.    We made it a "Deal."
Then I got an email from someone asking about the iHome Minispeaker.  It's basically the same product but it cost $29.99.  They wanted me to compare the Music Bullet with the iHome Minispeaker.
The iHome Minispeaker did seem to be a bit studier and it did seem to push a little more sound out which is good.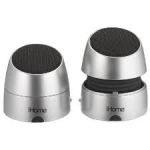 Did I mention I like my music loud?  Oh. Sorry, I forgot.
The iHome Minispeaker is a good minispeaker and I rated it a "Deal." As for which one is better, the Music Bullet or the iHome Minispeaker…I would give the iHome a small edge but both are a "Deal."