This is an archived article and the information in the article may be outdated. Please look at the time stamp on the story to see when it was last updated.
MADISON, Ala. (WHNT) – The woman behind bars in the Madison County Metro Jail and charged with the murder of her infant daughter will appear in court for the first time on Nov. 21.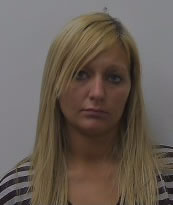 Desiree Dawn Childers, 27, was arrested in early September.  She had a bond set at $500,000, but that bond has been revoked, according to the Madison County Jail website.
Madison Police say they responded to a home on Oak Brook Circle on Sept. 2.  The initial call was that an infant had possibly drowned in a bathtub.
Paramedics tried to revive the child.  They rushed her to Huntsville Hospital, where doctors pronounced 7-month-old Blakely Fairburn dead.
Police began an investigation and charged Childers with murder on Tuesday, September 3.
The arrest warrant for Childers alleges her 8-month-old daughter was placed in the bathtub fully clothed. The girl's death was ruled to be as a result of drowning by the coroner.