This is an archived article and the information in the article may be outdated. Please look at the time stamp on the story to see when it was last updated.
HUNTSVILLE, Ala. (WHNT) - Police say a man is in the hospital after he attempted to hang himself following a standoff with officers in a home off Oakwood Avenue Tuesday evening.
Police closed off Oakwood Ave from Maysville Road to Polk Road after they responded to a domestic violence call a man ran into a home and barricaded himself inside.
Police say Keith Garrison assaulted a woman and young child.  They say when the first unit arrived at the home, Garrison was armed with a knife.  He ran into the home and barricaded himself inside.
Police say after several moments passed, they shined a bright light into the home and saw Garrison hanging.  Police officers entered the home and cut him down.  Paramedics took him to the hospital.  He is expected to survive.
Police say he will be charged with domestic violence. WHNT News 19 has confirmed he has previous assault charges on his criminal record.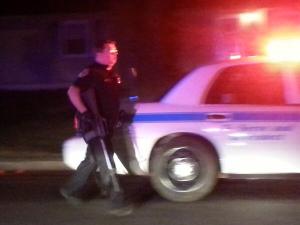 Oakwood Avenue was re-opened around 10 p.m.