This is an archived article and the information in the article may be outdated. Please look at the time stamp on the story to see when it was last updated.
HUNTSVILLE, Ala. – WhistleStop Weekend is in full swing in downtown Huntsville. "Barbecue, music, and people are hard to beat," said one griller.
Rain or shine, WhistleStop invites everyone out to celebrate the art of barbecue for the 18th year in the row. "The best way to describe the WhistleStop festival is it's just a big backyard barbecue," said one organizer of the event.
Different barbecue teams from around the area will be shutting down Church Street for three days, preparing their specialties for everyone to enjoy. "It's a great way for companies to come out and thank their employees. There's some cooks out here that do a cook off lunch for the county."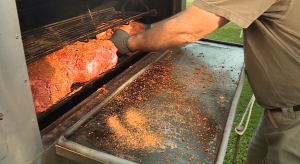 Both professional and amateurs grillers also come out to WhistleStop for the long awaited barbecue competition. From entertainment to activities to of course all of the food, WhistleStop is pulling out all of the stops to make sure you all enjoy this big barbecue weekend.
"We see the same old friends year after year, so it's just about getting out and seeing folks," said Jeremy Retherford, a faithful WhistleStop goer.
While WhistleStop brings a little fun to the downtown area, proceeds from the event benefit the history education initiatives of the Earlyworks Family of Museums.
You can click here if you're looking to purchase tickets for WhistleStop.