This is an archived article and the information in the article may be outdated. Please look at the time stamp on the story to see when it was last updated.
HUNTSVILLE, Ala. (WHNT) - What do you see? To some, it's a regular 'ol run-of-the-mill tree stump.  But folks at a Huntsville church see much more. This week we got the story behind this special stump and learned why it's likely going to stick around.​
"All Nations means that we are open to all peoples of every race, culture and kind," explains Senior Pastor Larry Inman.  About five years ago Hillsboro Heights Baptist Church at 3614 Drake Avenue noticed the community around them was changing.  Engineering types were moving out of the west Huntsville neighborhood and diverse races and creeds were moving in.  So the church made the transition to a multi-cultural congregation.
"We're just very convinced that the church needs to look like what heaven's going to look like," Inman says. "And in fact that's what we've said, we think this ought to be a slice of heaven.  And God doesn't know color, God doesn't know race and he loves us immensely and wants us all to come to know Jesus as Lord and Savior."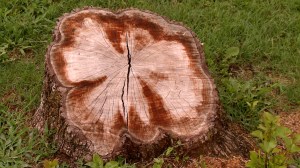 All Nations has a big, diverse congregation and lots of land -- nine acres to be exact.  A few weeks ago, the church had nearly a dozen diseased Cleveland Pear trees removed from the property by the same folks at the Madison Baptist Association Disaster Relief Team who had helped them remove a Hackberry tree felled by February snow storms. But this time, it's what's left behind that's turning heads and hearts.
"One of the guys said to me, 'have you seen our angel stump?' I said, 'what are you talking about?' He said 'there's a stump out there that looks like it has the image of an angel.' And so I went out there and looked at it and golly, it does!"
But what does the imagery mean to the church?
"It's just God revealing himself to us again, through nature. You know, with everything that goes on in our world, some days you're down, some days you're hurting and sometimes it's just really nice to see God's hand to just remind you, 'Hey, I'm in control -- trust me.'"
Pastor Inman says he's in a bit of dilemma though. "Because we're supposed to have those stumps ground and we may hold off on this one," he smiled.
You can see or think what you want, but maybe it's a sign All Nations is doing something right on Drake Avenue.
"Well we hope so. We're unique in our approach and our church is for everyone but we know it's not for everybody. We love gathering together and worshiping; it's always interesting to see who God sends on a given Sunday."