This is an archived article and the information in the article may be outdated. Please look at the time stamp on the story to see when it was last updated.
HUNTSVILLE, Ala. – The U.S. Space and Rocket Center attempted to set a Guinness World Record by launching 5,000 rockets at 8:32 a.m.
50 years ago, Apollo 11 lifted off at the same time.
Volunteer Jeff Sauder was 6 when his father saved a Philadelphia newspaper four days after the Apollo 11 mission launch — an earth-shattering achievement.
"I actually remember laying on the backseat of our boat, looking up at the moon one early evening thinking 'There's a man up there?'" Sauder said.
Sauder and other volunteers from Intuitive Research and Technology and the U.S. Space and Rocket Center placed the rockets on frames Tuesday morning to try and set the record.
"This is such an exciting day for Huntsville," said Intuitive co-founder Harold Brewer. "This is a defining moment in Huntsville history."
The 50 frames of 100 rockets each were meant to symbolize the five F-1 engines on the Saturn V rocket.
The public and kids attending Space Camp also were on hand to watch the attempt.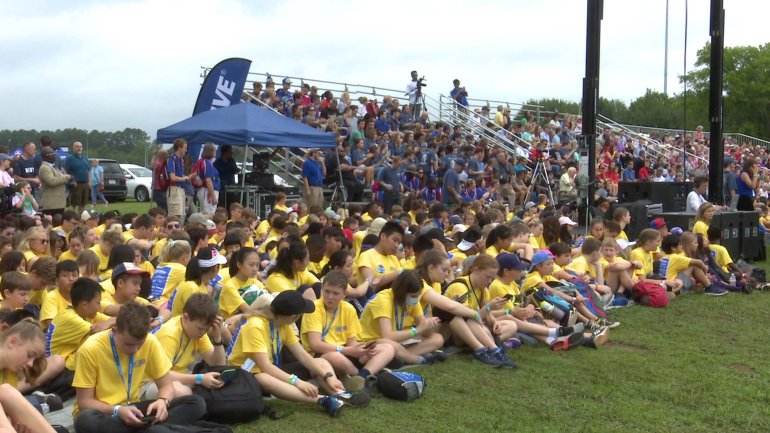 "What I'm hoping is someone out here in these grandstands today is going to be the first person on Mars," Brewer said.
He may be right.
"It's always been my dream," said Space Camper Sierra Isbill. "I've always known what I was going to be, and I've always loved space. It's kind of my passion."
There's been concern around rescheduling and the cost of NASA's Space Launch System rocket. Marshall Space Flight Center Director Jody Singer said four of the the five components making up the rocket's core stage have been assembled.
"I have all the confidence of us being able to support 2024 boots on the moon," she said.
Unofficially, the Space and Rocket center says 4,923 rockets were successfully launched with 77 left behind — which would still give them the record.
They plan to submit their evidence to Guinness by the end of the month and we're told they'll hear back in 12 to 16 weeks.