This is an archived article and the information in the article may be outdated. Please look at the time stamp on the story to see when it was last updated.
HUNTSVILLE, Ala. (WHNT) - Huntsville Police are investigating a wreck that killed a child and seriously injured two others.  It happened Monday afternoon in Hampton Cove, right in front of Hampton Cove Elementary School.
Micah Brown, 5, died when an 18-wheeler on Old Highway 431 struck the GMC Yukon the family was riding in on the passenger side, according to a website set up by friends of the family. The child's mother, Ryann Brown, was driving the SUV, which held three other children as well.
Rebekah Brown suffered serious injuries and is in critical condition at Huntsville Hospital.  Her sister, Sarah, also suffered multiple serious injuries and was flown to UAB Women's and Children's Monday.  The youngest sister, Noelle, is in good condition.
Brown has since been released from the hospital, but the injured children are still in the hospital. Children Lilah and Asher were not involved in the accident.
Tuesday, friends gathered at the family's church, Rivertree Church in Owens Crossroads, to pray for the family and write letters of encouragement.
A church member also set up a Caring Bridge and Go Fund Me page to raise money for the family and help with growing medical expenses. By Tuesday evening, the Go Fund Me page had raised more than$28,000.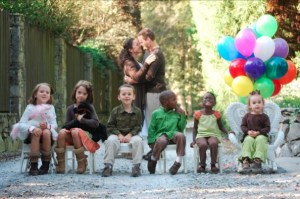 Witnesses say they heard the crash and saw several people running towards the wreckage.  One worker doing yard work near the crash scene climbed inside the SUV and helped free children, according to witnesses. Several drivers who saw the crash pulled over on the scene and called 911, according to police.
Investigators say the Yukon was travelling eastbound and turned left onto Audubon in front of an 18-wheeler.
Huntsville police continue to investigate the crash.
The faces of the witnesses/ 1st responders to this crash are heartbreaking. At least one child dead, 3 others fighting for life. @whnt

— Matt Kroschel (@Matt_Kroschel) May 12, 2014