This is an archived article and the information in the article may be outdated. Please look at the time stamp on the story to see when it was last updated.
HUNTSVILLE, Ala. – A driver ran into a Pizza Hut on South Memorial Parkway early Monday afternoon.
The car ran through the Pizza Hut on the Parkway just north of Hobbs Road around 1 p.m.
No one was injured. A Huntsville Fire Department spokesman said there was a booth by the window that the driver hit, but no one was sitting in it at the time of the crash. But that's not because people didn't want to.
Wrecker has arrived and car is being moved. @whnt pic.twitter.com/Hz7xuOfdgu

— Kelley Smith WHNT (@KelleySmithWHNT) June 3, 2019
A family wanted to sit at the booth shortly before the crash, but a manager suggested they sit somewhere else so they could have more room.
"And they originally wanted to sit at the booth that got hit but I intended to sit them at table six and they were lucky because they didn't get hit," said Johnnie Ikard, Pizza Hut shift manager.
Mark Smith said he was eating inside at the time of the crash.
"I was amazed how loud it was," Smith said. "Like a bomb. I even felt the compression wave!"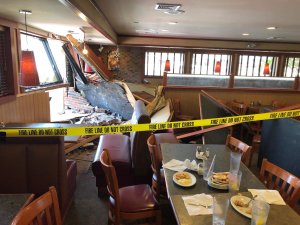 After the crash, an employee called the police. The fire department responded to ensure the building was still stable. Pizza Hut staff say the elderly woman who hit the building was a regular who visits the restaurant two to three times a week. Ikard says she was coming in for lunch.
"Lady said she came in the parking lot, she kind of skidded, she actually clipped the front of another vehicle. Kind of bounced off of that vehicle and then entered into the building," said Captain Frank McKenzie with Huntsville Fire Rescue.
Police have not responded to WHNT News 19's request for comment. It's unclear at this time if the department is planning to pursue charges. But it doesn't seem like there are hard feelings between Pizza Hut staff and the driver. Employees were consoling the driver after the crash. The GM even gave her a ride home.