This is an archived article and the information in the article may be outdated. Please look at the time stamp on the story to see when it was last updated.
This afternoon we might see a pop up thunderstorm, but most areas stay dry today with highs in the upper 80s. If we see 90°, it will be for the first this year.
The big weather story of course is the aftermath of an EF4 tornado in Moore, Oklahoma. The search and recovery continue this morning.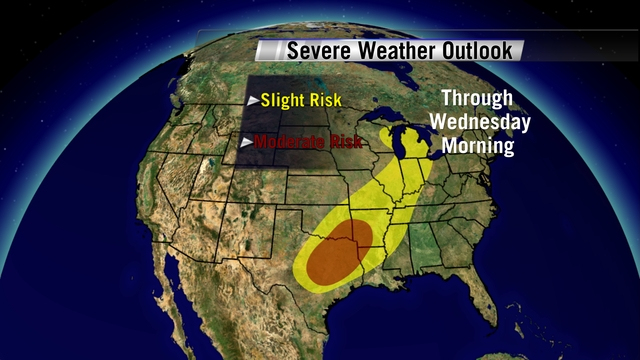 The severe weather potential continues for today as east-central Texas, northwest Louisiana, southwest Arkansas, and southeast Oklahoma are under a *moderate risk* for severe weather this afternoon. This includes Dallas/Fort Worth to Texarkana.
The system should weaken by the time it gets to us in the Tennessee Valley Wednesday.
This time of year we can't rule out an isolated severe thunderstorm, but nothing organized is expected. Hopefully it will clear out for the holiday weekend.
Read more discussion at Valleywx.com.