This is an archived article and the information in the article may be outdated. Please look at the time stamp on the story to see when it was last updated.
HUNTSVILLE, Ala. (WHNT) – Huntsville Police Officer Jonathan Sallis has healed from his injuries and returned to work Tuesday following last Thursday's altercation near a University Drive Quizno's Restaurant.
"He was treated and released at the emergency room and he's actually back at work on full duty status," says Huntsville Police Chief Lewis Morris.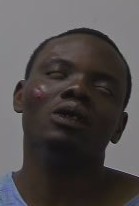 Morris says Sallis was on detail work near his west precinct home base when he responded to the call of a suspicious vehicle leading him to Olusola Kuponiyi who is now charged with attempted murder.
Morris says there are details about the incident which cannot yet be released due to Kuponiyi's pending criminal charges. Morris says despite what some may perceive as a slice on the arm, he assures Kuponiyi used deadly force on Sallis during the assault.
"The officer was sprayed with O.C. spray and that incapacitated the officer," explains Morris. "According to the officer there were efforts made while he was down on the ground, the suspect made efforts to try to gain control of his weapon."
Morris says in the law enforcement community there is a network of officers trained to counsel fellow brothers and sisters on the force who have been through incidents involving deadly force. Morris says counseling from peers who have experienced similar situations can be an asset to anyone from the officer involved to the dispatcher who took the call.
"Any time there is a use of deadly force incident involving an officer our priority is the welfare of that officer," explains Morris. "Police officers talking to other police officers who have been trained in that area is an avenue that is certainly available to an officer."
Morris says officer can also take advantage of the Police Chaplain Program or the City of Huntsville's Employee Assistance Program.
Morris says the incident review board will meet in early September to examine the entire incident. He says the board will also help gauge whether current processes or procedures in place are adequate as is protocol following any assault incident involving an officer.
Chief Morris says he also wishes to thank the community for all their support toward officer Sallis.
"We appreciate all the concerns of the public," Chief Morris says. "I believe we have a lot of support within the community and we appreciate all the support for our officers in our mission to provide public safety."