This is an archived article and the information in the article may be outdated. Please look at the time stamp on the story to see when it was last updated.
HUNTSVILLE, Ala. - Are you ready to ride? Uber Huntsville officially launched Friday, March 4 at 4 p.m.
Welcome message from @Uber, now in Huntsville @whnt pic.twitter.com/Bq9WFfAT37

— Kristen Conner (@KConnerTweets) March 4, 2016
The Huntsville City Council approved a revision to the city's vehicle for hire ordinance in Feb., allowing ride sharing companies like Uber to operate inside the city.
Curious to know the Huntsville rates? Check the image below, taken from Uber's website.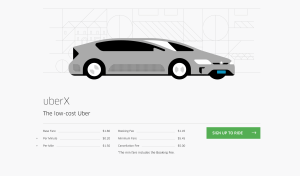 More information about Uber in Huntsville can be found at this link.
Uber drivers get to make their own work schedule. They use their own vehicles while working. If you are interested in become an Uber driver, go to its website and start the application process.  For those that want to use Uber, you can download the Uber app on your smart phone.
The city council has also voted to approve a resolution welcoming Zipcar.
How does Uber work? WHNT News 19 hailed an Uber ride live in the video clips below:
Where can you go with Uber in North Alabama?
Uber

is licensed to operate in Huntsville.

You can pick up and drop off there, no problem.
What about if you want to head into Madison? Revenue Officer Cameron Grounds says Uber is not licensed in Madison right now. A taxi or vehicle for hire, like Uber, can drop off in Madison, but if the company has no license there, then the business can not pick up a client in Madison city limits.
What about the airport? ​A Huntsville International Airport spokeswoman tells us any ground transportation needs to have an agreement with the airport to pick up riders there. The taxi services here have this agreement with the airport, and we're told it's a common procedure to ensure safety for airport customers.
With that being said, the airport is in Huntsville city limits so
Uber
can
currently drop off there. But without that formal agreement with the airport,
Uber 
can't pick up a customer there. Uber company officials tell us Uber and the airport are in communication, but an agreement has not yet been made.