This is an archived article and the information in the article may be outdated. Please look at the time stamp on the story to see when it was last updated.
HUNTSVILLE, Ala. (WHNT) – A University of Alabama in Huntsville (UAH) golf cart will never need to be plugged in again. Some young minds outfitted it with solar panels so it gets natural — and free — energy to power it.
Wednesday afternoon on the UAH campus, a team of students and some staff retro-fitted a cart, led by grad student Ivy Elrod.
The event also celebrates the launch of UAH's student chapter of the Association of Energy Engineers.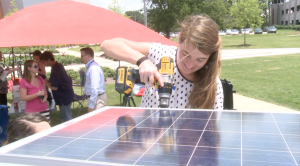 With help from the Alabama Center for Sustainable Energy, the golf cart is the only one being outfitted — for now. The team hopes it will become a moving billboard as it moves students and staff across campus to promote the accessibility and convenience of solar power.