This is an archived article and the information in the article may be outdated. Please look at the time stamp on the story to see when it was last updated.
ATHENS, Ala. (WHNT) - An update on the horrible case of animal torture in Limestone County.
The Athens Police Chief says it's the worst case of animal cruelty he's ever seen.  Ronald Fraser Golden, 48, is charged with 22 counts of animal cruelty.  Police say Golden adopted, then tortured and killed kittens.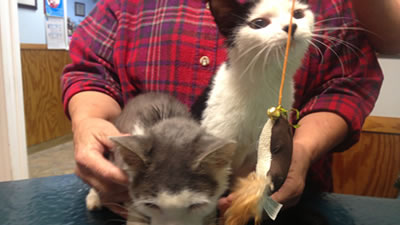 Two of the kittens survived and are in relatively good health.  They're now being treated and cared for in Huntsville.
Golden bought the kittens online.
"We are so against people putting animals on Craigslist for free," said Priscilla Blenkinsopp, with the Athens-Limestone Animal Shelter.
Athens City Animal Control confiscated the two kittens, Melvin and Mia, from Golden's home on September 30.  The shelter held the animals until Friday, October 11 when the police department released them.  The shelter learned ownership was relinquished upon Golden's arrest.
"An individual with the SNAP program in Huntsville thought that possibly they had adopted out two cats to this person and were afraid it might be the two cats that I had here, so they came to check and they went ahead and adopted them out so that they could make sure this doesn't happen again," said Blenkinsopp.
Janice Gibbon with the Spay Neuter Action Project adopted the cats, a male and a female, and took them for treatment at Governors Choice Animal Hospital in Huntsville.
Vets there say the cats have slight upper respiratory issues, but they began the de-worming process on Friday and the cats are friendly and in good spirits.
Blenkinsopp's advice for adopting?  Skip Craigslist and go with a shelter animal.
The cats will be spayed and neutered on Monday and are in such good shape they may be ready for adoption as early as the middle of next week.  We'll keep you updated on when the cats are healthy and healed enough for adoption.