This is an archived article and the information in the article may be outdated. Please look at the time stamp on the story to see when it was last updated.
HUNTSVILLE, Ala. (WHNT) – The plot of the bizarre tale of the brothers Lucas thickens. Brian Lucas, twin brother of Aaron Lucas whose story of blame against the aforementioned sibling garnered national attention, was arrested Sunday in Huntsville.
Brian Lucas, 32, is charged with 2 counts of 1st degree sodomy and 2 counts of 1st degree sexual abuse.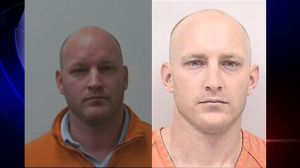 These are the same charges brother, Colorado Army lieutenant Aaron Gregory Lucas, claimed his brother Brian was responsible for late last year when accused of sexual abuse in 3 states.
Lucas was charged in Madison with sexual abuse of a child under 12 and enticing a child for immoral purposes.  Madison police said they submitted evidence in this case to the Department of Forensic Sciences in December of 2007.  

An Army 1st Lt., Aaron Gregory Lucas is married, a father of two and at the time was still considered active duty.
Investigators said during his service at Fort Carson in Colorado Springs, he lured or tried to lure 11 young girls into his car.  The children were all between 6 and 9 years old.
Prosecutors say Aaron Lucas sexually assaulted three of them.
His lawyers filed a new motion asking a judge if they can implicate another man for those Colorado crimes — a man they say "bears a striking resemblance" and drove a similar car.
Both men were born in July of 1981. Back in November WHNT News 19 requested an interview with Brian Lucas, Aaron's twin, but that request was denied.
Lucas is also accused of rape in Texas.  In every case, his lawyers say Lucas's identical twin is to blame.
Investigators at the Madison Police Department said they were unaware Aaron had a twin brother until his defense team made that known in court filings in Colorado last November. Investigators said their case is on hold until Aaron Lucas stands trial on the charges against him in Colorado and Texas.
WHNT News 19 is working aggressively to learn from police if Sunday's arrest of Brian Lucas corroborates brother Aaron's original claims against him, or if both brothers are in fact charged in separate incidents. Huntsville Police have said at this time they will not discuss any more details surrounding the latest Lucas arrest in the interest of the ongoing investigation. WHNT News 19 will of course continue to follow this story and bring you any new developments.