This is an archived article and the information in the article may be outdated. Please look at the time stamp on the story to see when it was last updated.
HUNTSVILLE, Ala. (WHNT) – The Huntsville Police Department has arrested a man in a recent case of vandalism involving a non-profit organization's tour bus.  Liberty Learning Foundation discovered approximately $30,000 in damage to its Next Great Americans bus on Monday.
According to a foundation spokesperson, police have arrested a man who police believe was breaking into cars at Drake Avenue and Whitesburg Drive.  Their investigation led them to a home off Golf Road and there they found some of the equipment stolen from the tour bus.  Police returned the items to the Liberty Learning Foundation on Tuesday afternoon.
Joshua Cramer, 34, is charged with three counts of unlawful breaking and entering.  He is being held in the Madison County Metro Jail on $7,500 bond.
Items recovered include audio-visual equipment, remotes and cables.  Several of the items are still missing and Huntsville Police continue to investigate.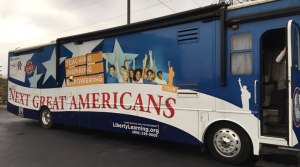 The iconic blue tour bus, often seen along Airport Road near the Memorial Parkway in Huntsville, is used as a part of the group's Super Citizen program, which is a 10-week class that teaches local students civics, character building, financial literacy and social studies for free.
"This bus travels to the schools and has a great big performance, so the kids know that they're part of something bigger," said Steven Jackson, the foundation's director of marketing.  "When they go back for 10 weeks in the classroom, they know the gravity of their roles as citizens."
The Liberty Learning Foundation discovered the damage on Monday.
"We opened the bus up and found out it had been ransacked," said Jackson.
The vandal or vandals cut the breakers to the parking lot lights, busted in through one of the skylights and went to work.
"All of the cabinets have been opened and searched thoroughly," said Nick Mclendon, the foundation's program technician. "What we can tell is it was done really fast and not thought out very well."
Several items had been stolen, including a TV, back-up camera monitors and audio-visual equipment.
"They really just made a mess of the bus," said Jackson.
Whatever valuables were left behind were likely ruined by Monday's early morning rain pouring in through the broken skylights.  The damage is estimated at roughly $30,000.
"We do have insurance, but it's a setback," said Jackson.  "What's going to happen is we're going to have to spend more money to go out and take several vehicles and take more people than we'd normally take."
Liberty Learning Foundation is partnered with about 270 schools throughout Alabama and beyond. It will continue its programs as scheduled and, now, Jackson said, with even greater resolve.
"The program goes around teaching kids to be super citizens, teaching them civics and character and to basically not do what these folks did to the bus. This pushes us to keep going with the mission because if you reach people young, maybe you don't have them ransacking our bus."
The foundation expects it to take at least a couple of weeks to make the bus fully operational again.  If you would like to help with bus repairs, a gofundme account has been set up to raise donations.  You can also learn more about the Liberty Learning Foundation's mission.