This is an archived article and the information in the article may be outdated. Please look at the time stamp on the story to see when it was last updated.
HUNTSVILLE, Ala. – The federal trial is underway for Eric Parker, a Madison police officer accused of depriving a man of his civil rights. Dash camera video shows Parker slamming a man into the ground earlier this year.
Lawyers spent much of the day Tuesday sorting through questionnaires potential jurors filled out that morning.  Jury selection lasted until at least 6:00 p.m. and resumed Wednesday. The jury was seated shortly after 10 a.m.
WHNT News 19 has a courtroom blog – read updates here.
Eric Parker was present for jury selection, and the victim, Sureshbhai Patel was also there with his family for part of the morning.
Late in the day, federal prosecutors were still questioning 50 members of the jury pool. The defense will also have the opportunity to question them before they choose just 12 to hear the case.
The incident happened in February. Parker and another officer responded to a "suspicious person" in a Madison neighborhood. They found Patel walking in the neighborhood.
The video shows Parker's interaction with Patel, then shows him slamming Patel to the ground.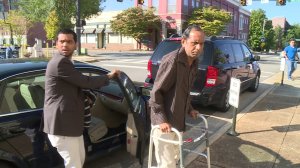 Paramedics took Patel to the hospital where doctors placed a metal plate in his neck. Patel is still partially paralyzed.
Madison Police Chief Larry Muncey recommended to city leaders that Parker be terminated.  He remains on administrative leave at this time.
The Huntsville Times/AL.com reports Parker plans to take the stand during the trial. His field trainers, supervisors and other officers are also expected to testify.
There is one motion the prosecution is still waiting for the judge to rule on. That's their request to stop the dash-cam video once the paramedics arrive. They contend there is conversation there that should not be admitted into court.
WHNT News 19 has a crew in the courthouse.  We will cover the trial extensively and bring you updates on WHNT.com, Facebook, Twitter and our newscasts.