This is an archived article and the information in the article may be outdated. Please look at the time stamp on the story to see when it was last updated.
Three Alabama lawmakers are ready to take the first step in bringing a spaceport to Alabama.
Senator Gerald Dial, Representative Jim McClendon, and Representative Mac McCutcheon plan to propose in the Alabama Legislature Tuesday resolutions to create a nine person committee to decide whether to recommend creation of an Alabama Spaceport Authority.  A state authority eventually could apply for a license from the Federal Aviation Administration.  The FAA has already licensed eight non-federal launch sites in six states.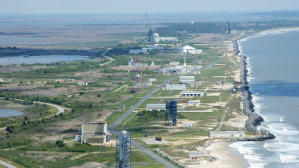 Senator Dial told our news partner The Huntsville Times that he would like to see Alabama beat most other Southeastern states to the punch in planning for a spaceport.  Dial noted that Alabama has a long history with rockets and space flight, with NASA's Marshall Space Flight Center and Redstone Arsenal.
If Alabama receives FAA approval, it could oversee construction and operation of a launch site for commercial orbital and suborbital flights for people, satellites, or other cargo.