This is an archived article and the information in the article may be outdated. Please look at the time stamp on the story to see when it was last updated.
HUNTSVILLE, Ala. — Huntsville Hospital for Women and Children is constantly using new technology to bring patients the best treatment possible. When it comes to babies in the Neonatal Intensive Care Unit, their treatment needs to be extremely specialized.
The hospital has opened a new Infant Nutrition Lab to bring innovation to one of the simplest and most important things a baby needs– a mother's milk!
Studies have proven that breast milk is the best diet for making a baby stronger. And the Infant Nutrition Lab, informally called the "Milk Lab," has the sole purpose of making that milk the best it can be.
Trained "milk technicians" take the breast milk and can add nutrients and control the temperature as it best suits each individual baby.
"Those fortifiers add extra nutrients, extra protein, extra calories, to our mother's milk," said the unit's director, Cheryl Case.
Lots of milk can be prepared and kept fresh or frozen. After the milk is labeled, it's stored in a sanitized, refrigerated bin used only for that baby.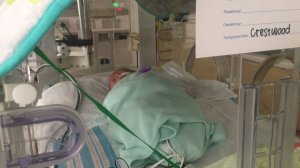 Evelyn Muniz is the new mom of Eugene, a baby who has been in the NICU for 40 days. She says the Infant Nutrition Lab has helped to make feeding a lot easier and is making Eugene stronger every day!
"I bring in my milk, and they get everything measured and everything for the baby, ready to go for the nurses," she said.
The Infant Nutrition Lab is made possible by the Melissa George Neonatal Memorial Fund and generous Huntsville Hospital Foundation donors.