This is an archived article and the information in the article may be outdated. Please look at the time stamp on the story to see when it was last updated.
HUNTSVILLE, Ala. (WHNT) – From profit hemorrhaging, to extended hours, to management options, the Madison County Farmers Market and its future got a lot of play among county leaders and local growers alike in 2013.
Wednesday, the conversation continued at a Madison County Commission work session.
The farmers market will have a more local feel when it begins selling fresh produce this spring.
The Madison County Commission showed a consensus to re-focus the market on Cook Avenue to showcase fruits and vegetables grown in Madison County, after allowing the previous contract with interim market manager Kenny Brooks to expire in November.
The farmers market was a regular topic of discussion at commission meetings last summer when the county contracted with Brooks to manage the market with commercial sellers competing against local growers.
The business arrangement created "bad blood" with local growers, so the commission recommended ending the practice of having commercial sellers compete with county farmers.
"I think we ought to make it a local market," said District 6 Commissioner Bob Harrison. "The two commercial ends are more trouble than they're worth."
Harrison conceded, though, that some of the market's most successful years happened when the vegetable stands were flanked by commercial bookends.
"When we decided to compete it — that's when we really got in trouble," he said.
Data collected over the summer showed 90 percent of the market's foot traffic occurred on two days – Friday and Saturday. Commission Chairman Dale Strong said based on the data, he would support the market opening up in spring with that two-day-a-week business model. Phil Vandiver disagrees, though.
"I would suggest three days a week, a Tuesday, Friday, Saturday so produce that is ready on the weekend can have a chance to be sold in the middle of the week," said Vandiver, the District 4 Commissioner.
Phil Riddick suggested he's got 25 undeveloped acres ripe for commercial development off Airport Road near Pinhook Creek and John Hunt Park.
"That might be pretty good place for a farmer's market," the commissioner/commercial real estate broker said with a smile.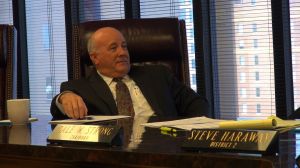 Riddick suggested about the only thing the current market location had going for it was that it had been there his whole lifetime – but that the market doesn't have prime location or accessibility on its side.
So could the farmers market see a boost in traffic and visibility at a location off Airport Road? Right now, moving the oldest county market in the state is strictly a suggestion.
No matter what the future of the market, its vendors or its hours of operation, commissioners pledge to continue the conversation right now as opposed to later in order to promote the market's spring opening early and aggressively.