This is an archived article and the information in the article may be outdated. Please look at the time stamp on the story to see when it was last updated.
HUNTSVILLE, Ala. – If you're a Star Wars fan you already know what day it is, but for those don't, it's May the Fourth, also known as the unofficial Star Wars Day.
To mark the occasion, Star Wars fans are flocking to Toy Box Bistro in Huntsville. "I mean ever since I was a kid I've been in love with space travel and Star Wars," fan Thomas Hawkins said.
It's the restaurants busiest day of the year.
"It is all hands on deck because today will be almost double what we normally do," Toy Box Bistro owner Michelle Timon said.
As people walk through the doors they take off at light speed to a galaxy far, far away. "It is so cool. Like I really like the decorations," Natalie Balch said.
The restaurant is known for its eclectic decor, but on the fourth of May, it's decked out in Star Wars memorabilia inside and out.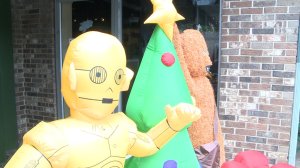 Some might not understand how this Christmas tree inflatable goes with the day's theme.
Timon says for fans, it's the most wonderful time of the year. "Huntsville is a very nerdy town and today is May the Fourth which is the unofficial Star Wars Day or what we like to call nerd Christmas."
The restaurant also rolled out a Star Wars-themed menu so people can taste the sweet nostalgia. "I got the Yoda taco," Balch said.
It includes several dishes including the Death Star Burger, and the Rancor's Po Boy."One of my favorite scenes in Star Wars when Luke Skywalker was in the pit fighting him," Hawkins said.
And even dessert. "The Obi-Wan Cannoli, our dessert name is pretty funny," Timon said.
A fan favorite. "Texture is spot on," Mary Jane Smith said.
Why is the day such a success for the restaurant? Timon says people can't resist the force of May the Fourth.