This is an archived article and the information in the article may be outdated. Please look at the time stamp on the story to see when it was last updated.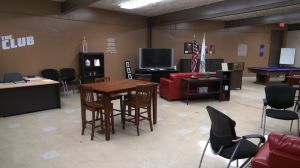 HUNTSVILLE, Ala. (WHNT) – Tucked down a hallway on the lower level of Butler High School as you make your way through halls of green and gold is a room that looks nothing like the rest of the campus. It's a new teen safe haven for learning life lessons called 'The Club'.
A Boys & Girls Club Staff member has been teaching club program based curriculum for the past two years at Bulter High School – focusing on subjects like anti-bullying, public speaking, community service, personal responsibility and development.
Bulter principal Sanchella Graham saw the class has had such response and success that she suggested moving the Sparkman Homes Teen Center to the school.
"So we started talking about it and meeting about it and it just made sense," says Boys & Girls Clubs of North Alabama President Patrick Wynn.
"These days when funding is getting cut from every-which-way and when you can do collaborations and save on transportation, save on bricks and mortar and save on leasing out a space, it just makes business sense," explains Wynn.
Wynn says when students first entered the space he witnessed "kids just being kids".
"With the right type of resources and the right type of support they can be just like any other successful citizen in this community," says Wynn.
In addition to the students who already attended the teen center formerly housed in the Mason Court/Sparkman Homes community, 'The Club' is also open free of charge to any Butler High School Student.